Kriti Sanon Hairstyles. Kriti Sanon, the renowned actress from Bollywood who initially began her career in modeling. After realizing she could do more, she changed her paths and started her career in acting. Her very first film in Bollywood was 'Heropanti', her performance was good enough to land her the Film fare award for the best female debut.
Winning this award in Bollywood is never an easy game; knowing hundreds of new talented actors entering the business. But that's not all because when it comes to nailing your fashion skills in a place like the Indian industry where critics are everywhere to judge you on your every single approach; Kriti Sanon knew how exactly well to manage that.
Latest Hairdos of Kriti Sanon to Follow
Right from her epic outfit instincts to her flawless camera moments, Kriti Sanon has got a bit more pitch to rock her hairdos as well, and you will see how. When it comes to quirky hairstyles, Kriti Sanon radiates sheer grace. Also, if you scroll down through her Instagram profile, you will find how much she loves experimenting with her hair. In Bollywood, Kriti Sanon is the queen of hair. In addition to fuss-free fashion choices of Kriti Sanon, she also knows how to manage simple yet stylish hairstyles that everyone can try for sure, especially on their lazy days. Her hairdos have gained the undivided attention from her millions of fans.
If you too love experimenting with your beautiful hair, or you are just bored with your old hairstyle, try these best hairstyles of Kriti Sanon. Scroll down the list of 20 best hairstyles of Kriti Sanon and recreate any hairstyle that you like the most.
Have a look at the best hairstyles of Kriti Sanon to date that you can follow to match with nearly every outfit style of yours.
How did we decide?
We have selected these 20 best hairstyles of Kriti Sanon based on her latest hairdos that she flaunted on her Instagram. We have put together the most liked hairstyles of Kriti Sanon.
↓ 20 – Kriti Sanon Short Hair
Sister of Kriti Sanon 'Nupur Sanon' is one of the talented hairstylists behind most of her hairdos. Nupur chopped off Kriti's long hair at home during this lockdown. To this refreshing haircut, Kriti posted an IGTV video on her Instagram saying, 'Have never ever gone this short! I love it'. Watch
Huge fan following of Kriti also liked her new haircut by liking and commenting on her post.
↓ 19 – Headband Hair Style
It's time to wear your cute headband during this lockdown and chill just like your favorite and adorable actress. Do you want a similar look? Just tie your hair with a loose knot and wear your favorite headband.  Pull out some hair strands to create a rough look. Now you are all set! Have a look at 30 Cute Kriti Sanon Outfits and Looks
↓ 18 – Twisted Side Swept Hair Style
If you want to try out a casual yet chic hairstyle? Try this 'Twisted side-swept' hairstyle of Kriti Sanon. This hairstyle is very simple and can fit almost any of your outfit.
↓ 17 – Chignon Ponytail Style
Ponytails show no sign of leaving the fashion table. So far we all have known ponytails always remain in trend. Whether it's about fancy styles, formal looks, or most basic and simplistic looks, ponytails always look better. And it looks trendy when your favourite actor makes a ponytail style for parties. Kriti Sanon gives her admirers' amazing hair goals. Her hairdos act as a backup for situations when you are blank about which hairstyle you should carry on for parties. Make this chignon ponytail by making a simple loop between bun and ponytail. This simple hairstyle will add a lively touch to your formal look.
↓ 16 – Top Knot Hair Style
Another best hairstyle of Kriti Sanon is this 'Top-Knot bun' that is not only easy to make but also looks classic. If you have oily hair and don't feel like shampooing, this chic hairstyle will work for you.
Wear a scrunchie to amplify the beauty of this look. You can also accessorize your bun with some flamboyant bobby pins to add a funky look.
↓ 15 – Side Parting Hair Style of Kriti
Changing the hair part has always been a very well-known hair hack as it can change your looks within seconds. So, if you think your casual hairstyle is a bit flat or if you are looking for some change in your hairstyle, try this side parting hairstyle of Kriti Sanon.
This side part hairdo can offer you a new boost to your looks. Kriti Sanon's side parting style looks chic and will give you a glam vibe wherever you go. Interestingly, side parting works best for girls with a broad forehead.
↓ 14 – French Mohawk Braid
French Mohawk braid of Kriti Sanon has won the hearts of her followers. You will love this sleek hairdo that looked amazing on Kriti in her famous Bollywood movie 'Dilwale'. Whether you have silky straight or curly hair, this simple yet edgy braid is one best way to elevate your everyday look.
↓ 13 – Messy Side Braid Style
With messy side braid look, she rocked a perfect summer sundress and matched it with absolutely impeccable minimal makeup. To rock this hairstyle, you must wear it more simply as she has. This messy side braid hairstyle is stylish and quite easy to make.
All you need to do is to make a bun and pull out some sprigs of hair. This hairdo is best for summers too.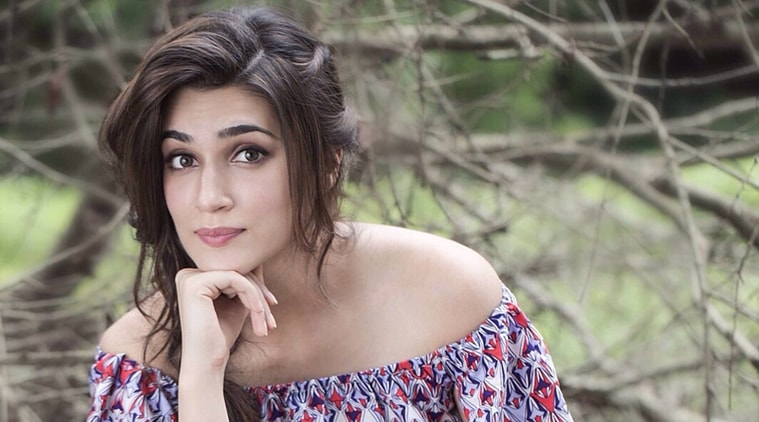 ↓ 12 – French Braid Look of Kriti
Do you want more choices for braiding your hair? Well, Kriti has got your back. No one pitches in a better and cuter French braid style other than Kriti.
It's a great look to match it with a pretty and nicely printed dress. Best for casual days out and for when open hairstyle does not work out.
↓ 11 – Cute Outward Layers Style
The cutest possible outward layers look of Kriti Sanon gives some serious hair goals to women who love some funkiness in their style. If you too cannot imagine your style without a bit of craziness, then this is the haircut just meant for you.
To nail it perfectly, it's always a good idea to go for light makeup looks when you get a freshly cut hairstyle. Do check out Indian Celebrity Snapchats-25 Indian Celebrity Snapchat Accounts to follow
↓ 10 – Sexy Silky Open Hair Look
To match your hair with your luxurious makeup look, going for a silky and shimmering open hairstyle is a clever idea. Not only does it match the class and fanciness of your makeup but also of your outfit if you are wearing a prominent one.
↓ 9 – Hairstyle with Saree
When you struggle the most with what look to match with that enormously fancy saree, here's a bit of help. Take inspiration from Kriti Sanon as she looks diva in every hairstyle that she carries.
You'd be surprised how simple it is, to easily get the most right look for your saree. Just a matter of loose curls, a bit of gel, and equal partition of your layers is all you need with a saree. Here's our exclusive post on Cute Hairstyles to Wear with Saree.
↓ 8 – Lovely Straight Hairdo
This one's surely the loveliest look of Sanon that can be copied for nearly every look you want to pull off. Let it be a casual summer day with a lovely summer dress, a fancy and demanding saree, a formal look with a sensually sophisticated suit and so much more. This straight and layered hair look is your gem for avoiding bad hair days! Here are the latest Vaani Kapoor Hairstyles.
↓ 7 – French Braid Hairstyle
Kriti Sanon looks stunning in this French braid hairstyle. She is someone who won't rest until she gets the best look out there applied to herself. And neither should you give up until you know you can't look any better.
↓ 6 – Casual Hairdo with Jumper
Kirti Sanon looks chic as ever in this simple yet sleek loose curly hairstyle that looks simply elegant on this jumpsuit. This hairdo of Kriti Sanon will also work best with your formal and traditional attire.
↓ 5 – Messy Braid Half-tied look
A braided half-tied hairdo gives an utter look of prettiness and elegance that cannot be achieved with any other look.
↓ 4 – Catchy Updo Hairstyle with Gown
A matchless updo style with a fabulous sleeveless gown. Because updos are practically ruling every look, you can ever want. They are formal; they are casual, they could be fancy too if you make them up a bit more decoratively.
↓ 3 – Sensual Wet Hair Look
And here comes her top hairstyle that you can follow or at least try for once. The sensual and messy wet hair look that is not so hard at all to get your hands on; in fact, you can apply one nearly every day and get some cool snaps out of it. What matches best with a wet hair look is some tacky smokey eye makeup look just like the one Kriti has applied herself.
It might look intimidating to you to recreate this hairstyle; however, it is quite easy to make. All you need to do is to start with your damp hair and apply some hair gel or gel mousse with fingers and carve your hair to perfection and the shape you want. You are all set to go!
↓ 2 – Topsy Tail Hairstyle
This hairstyle is perfect if you are looking for a girlish look. This hairdo of Kriti Sanon is also quite comfortable to get in summer. Try this hairstyle if you have no idea which hairstyle you should get for your long silky hair. If this is the case, Topsy tail can help you look elegant yet comfortable. It's time to break free from your casual dull hairstyles and show off some creativity. With this Topsy tail, you can create different exciting and elegant looks.
↓ 1 – Pigtails Hair Style
Who said two braids are just for school girls? One of the major hair inspirations that Kriti Sanon gives her fans is her ponytails. You can also try this pigtail hairdo which will remind you of your old school days. Maybe you didn't like making braids back then, but now you will love to do so because your favourite star is doing so.  This hairstyle of Kriti Sanon has become the most-sorted among her followers. She gave a grunge twist to both of her braids right from the top of her head and left some tendril loose at the ends.
You can also make variations in this hairstyle such as you can make fishtails, mermaid or Dutch braids on both sides. Each braid will look cool. So choose any style that you prefer. Make these two side braids and rock just like Kriti did.

Wrapping Up
Apart from healthy, voluminous, shiny hair, you will need to pick a perfect hairstyle that elevates your beauty. If you are looking for some classy and up-to-date hairdos, scroll down through the Instagram feed of Kriti Sanon which is full of stylish hairdos that will help you transform your looks. Get inspiration from Kriti about the best hairstyles that will make your day.
Kriti Sanon is considered as the queen of hairstyles in Bollywood. Best known for her passion for experimenting with her hair after acting, Kriti has never failed to amaze us with her new stylish hairstylists that almost everyone can get for any occasion. It's not only her hairstyle but her peerless acting skills are something that has helped her gaining in so much popularity across the globe.
This Bollywood actress with an endearing smile and magnetic persona complements her chic dresses with the best hairdos. So, if you ever feel you are running out of ideas about hairstyles, have a look at the hairstyles of Kriti Sanon. You will never get disappointed. You will find almost any hairdo ranging from messy buns, ponytails, braids, loose curls, or simple straight hair.
Do let us know about your favourite hairstyle of this cute yet talented actress in the comments section below!