Top Jeans Brands for Women in India. Jeans – the most vital fashion accessory in today's fast-paced world. From aesthetic professional styles to casual outfits – jeans is what makes our style classic and memorable. Something that's comfy and attractive at the same time. There have been massive trends in jeans styles all over the world and women are going crazy over wanting to try each of them.
Women in India as well have jeans as their everyday clothing accessory, so here's a little help. The best 10 jeans brands for women that you have got to try in India. So check them out and redo your wardrobe this new year.
Best Jeans Brands For Women In India
Let's start with what the best jeans trends to follow this year. Followed by our list of the jeans brands that you need to have on your shopping list.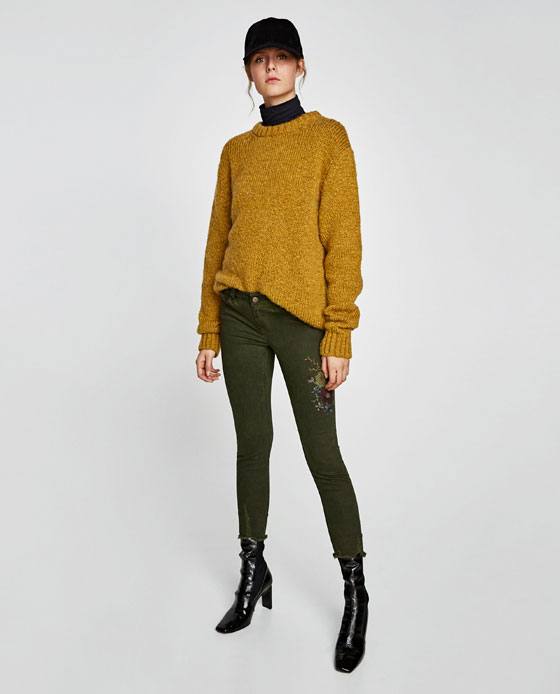 ↓ Jeans Trends to Follow in 2019
Jeans with floral embroidery. Check out 15 Perfect Ways to Wear Jeans Skinny Guys.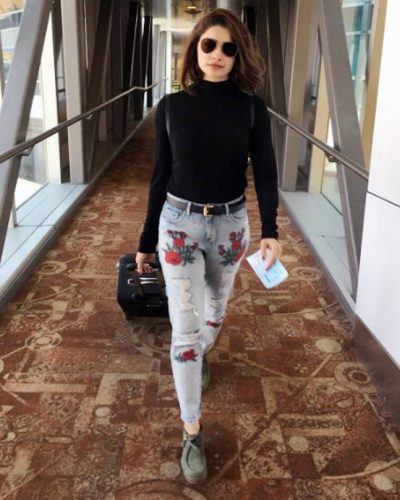 Slim and shape boot cut jeans styles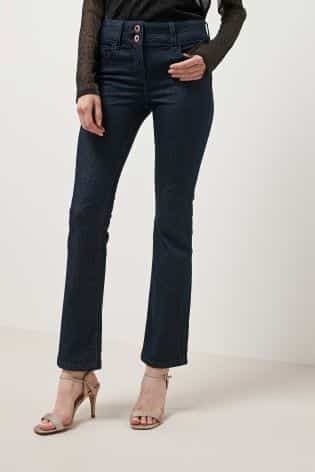 ↓10 – Spykar
Spykar is a unisex clothing brand that is now also available in India, in Madhya Pradesh. It has identified its position as one of the most known and premium denim brands in India. The official online store of Spykar in India can be accessed through this website.
For women as well, jeans of the highest quality and with the best of style are available all over the world, including India. Have a look at some of the best denim from Spykar that all women need this year in their wardrobes. Their products are not so expensive but their top sellers such as low rise and mid-rise skinny jeans range from 2500-2800.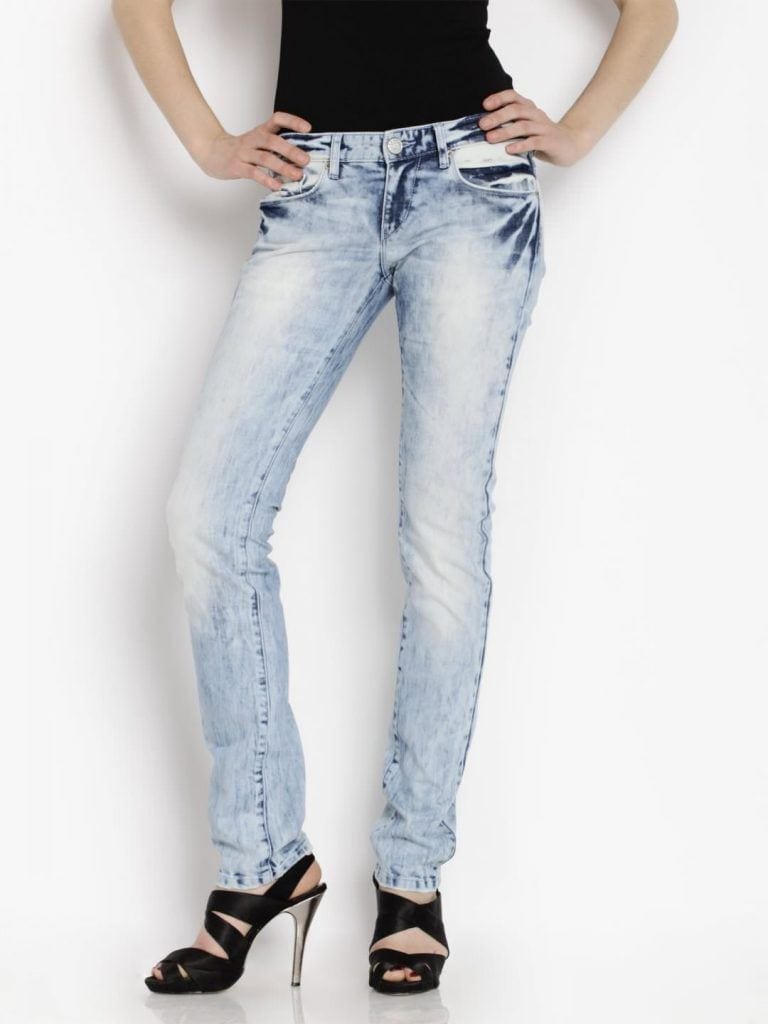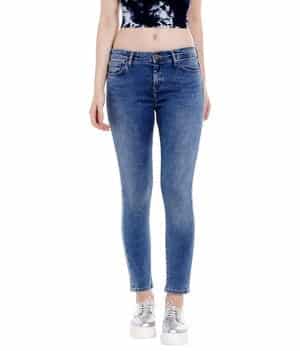 ↓9 – Lee Jeans
Lee is a famous American brand from America but it has various outlets all across the world. One of them also happens to be located in Uttar Pradesh, India — something which women in India should be excited about. It's one of those brands that have a specialty in denim.
The attribute that sets Lee Jeans apart from other brands is its redeeming quality and a variety of styles that can match any women's taste. From pants that you want for your office presentation to the one, you want to wear to the club. Their prices also range from 1000-3000. Not so expensive right? So wait not, and buy one!
Lee Skinny Fit Women's Jeans Rs. 2499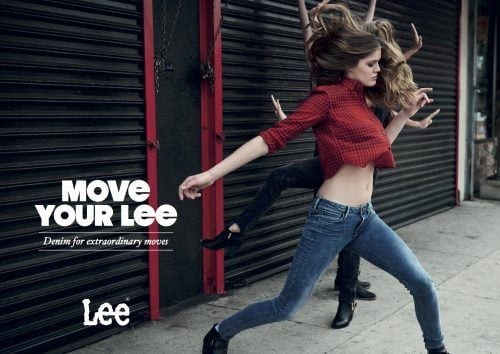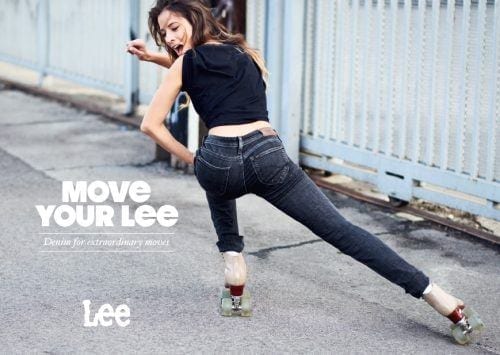 via
↓8 – Killer Jeans
Killer jeans is quite a famous and preferred brand in India, which was launched in 1989. The best part about this brand is its affordability and the diverse styles which cater to consumers with different tastes. It's also one of the best for women in India for everyday wear – fancy, formal and casual. Here are 20 Indian Celebrities Ripped Jeans Styles to Copy This Year.
The classic brand offers regular jeans for people who prefer simplicity, slim fit, skinny for both women and men. Check out the images that surely will convince you to buy them. In short, the name of killer jeans always comes up when best denim brands in India are discussed. Most of their products' prices range from 1000-2000.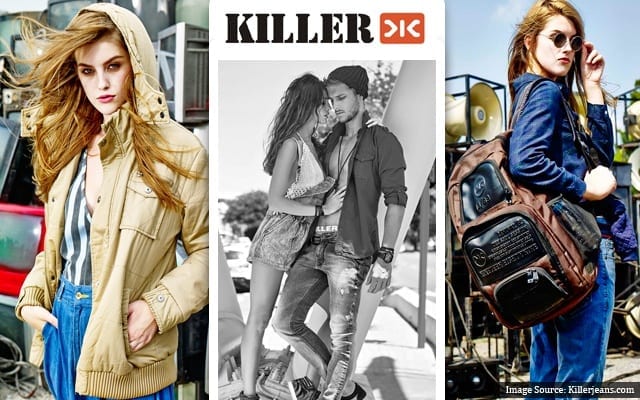 via
↓7 – Diesel Jeans
Diesel is quite an exquisite and a rather luxurious denim brand that offers high-priced jeans products. For young adults, diesel has positioned itself as a premium and go-to brand for the style, the class and quality it offers. Even though it's a bit expensive, it still comes under the list of top denim brands in India.
Although, the brand sells various kinds of fashion accessories, what sets it apart is it iconic denim/jeans products. In India, you can easily buy jeans from around 700-2000. Myntra is a good platform to buy diesel products in India.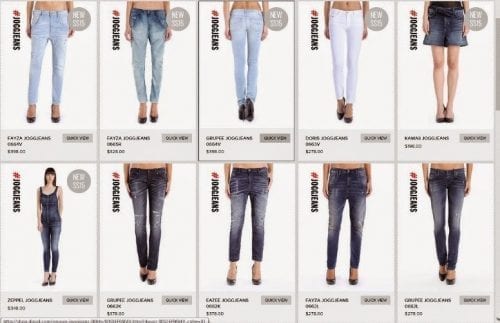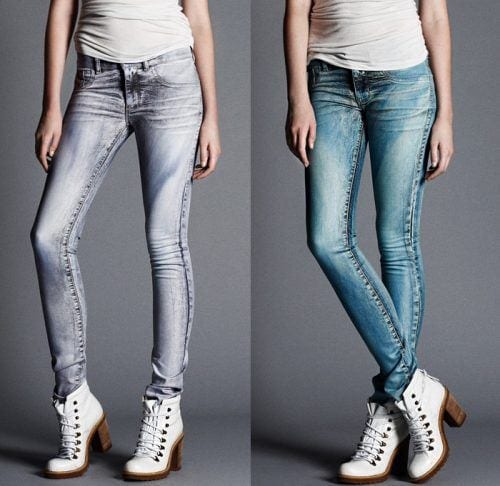 via
↓6 – Pepe Jeans
Pepe Jeans – a name that crops up almost instantly when you are out to buy a pair of jeans in India. Want to know why? Because it has been around for quite a long time and has stores in about 50 nations around the world. It started in India in 1989 and has one of the largest market shares in India to date.
Men and women alike are die-heart fans of the denim of Pepe Jeans. The classic brand has created a whole new niche for itself in India, something which hardly any other brand has. What's better is that it offers consumers to customize the style of their own jeans! Go to Myntra and buy women's' regular skinny jeans at only 1200 with 50% off!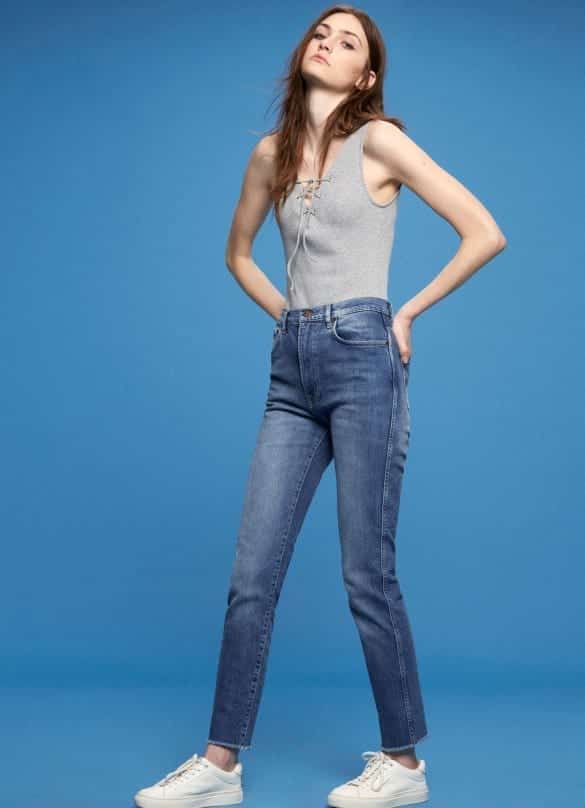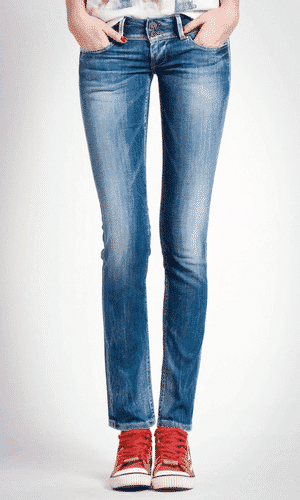 via
↓5 – Flying Machine
The brand Flying machine – as unique and distinct as it sounds is one of the good denim brands in India that has positioned itself as trustworthy and full of style. In a very short period of time, it became well-known in India.
Flying machine also has 40% sale so go straight here and get a distressed high rise skinny jeans for only Rs. 930!
Lately, flying machine's low rise jeans style is at the top and high sales. Have a look below: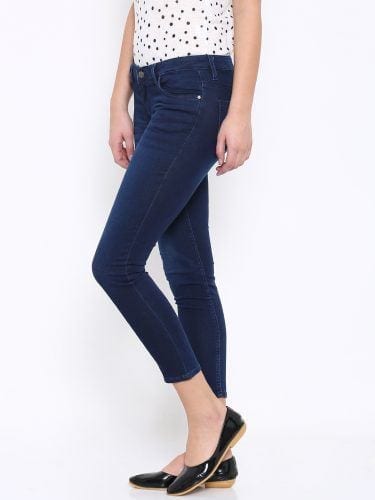 via
Another classy one is the same low rise look with a bit of ripped style from Flying machine that makes all women awestruck this year. So ladies, get your wardrobes all stocked.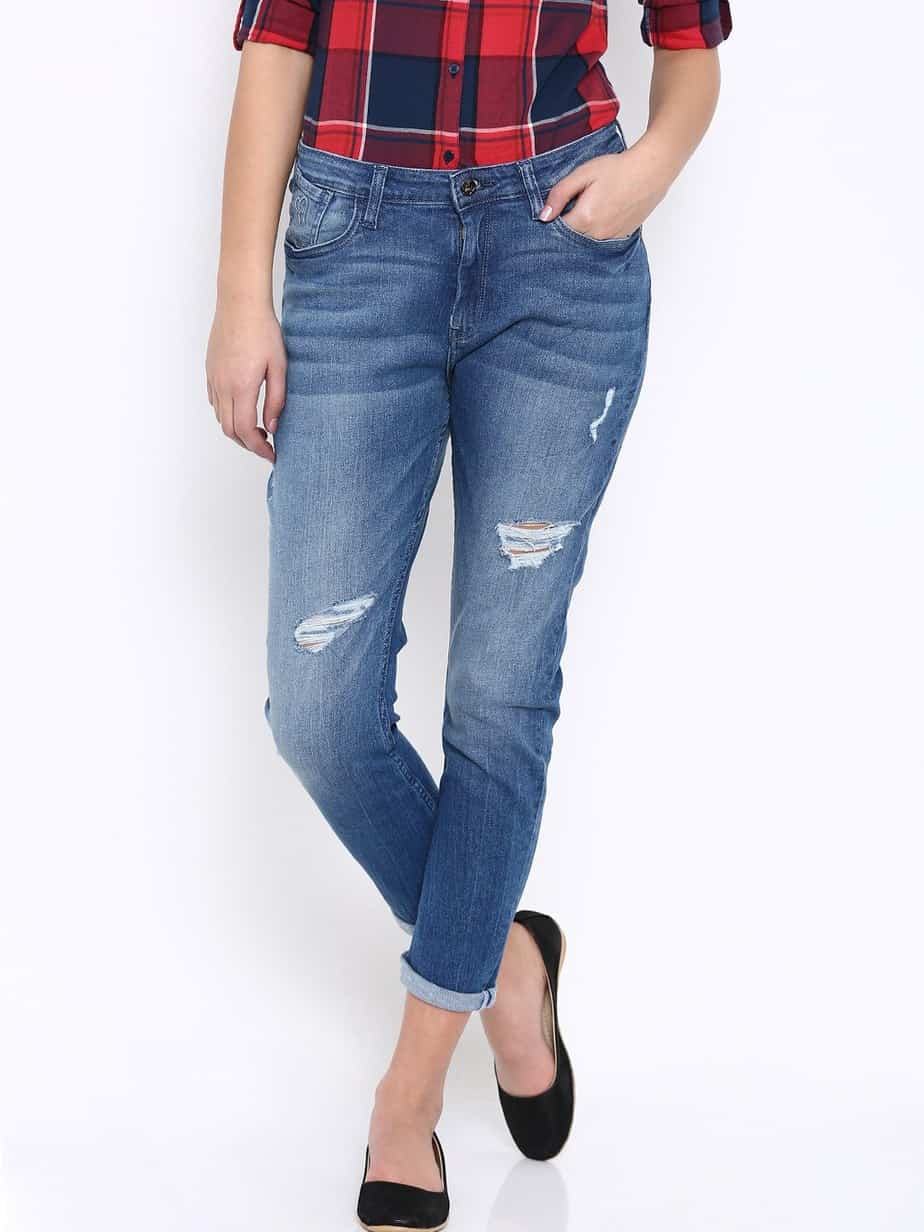 via
↓4 – Denizen
Denizen is surely one of the most luxurious and most appealing jeans brand in India. It offers a wide range of gorgeous and authentic denim jeans to both women and men. From modern skinny jeans to slim jeans to boot-cut – you will find the style of your choice right here at Denizen. Price range: 1000-3000. Don't miss out these 25 Best Shoes to Wear with Jeans for Different Looks.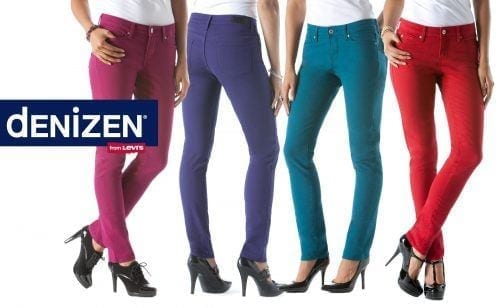 via
Don't forget to try out the mesmerizing modern skinny jeans bombshell here from Denizen: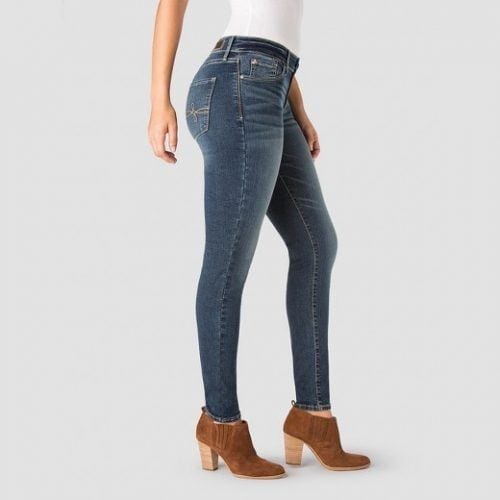 via
↓3 – Vero Moda
The Vero Moda has started off the new year with excellent new varieties of jeans for women. Even in India, women are losing it over ecstatic new styles that can rock any outfit. Check out the distressed slim jeans from Vero Moda, which is meant for women who love dressing a bit out of order.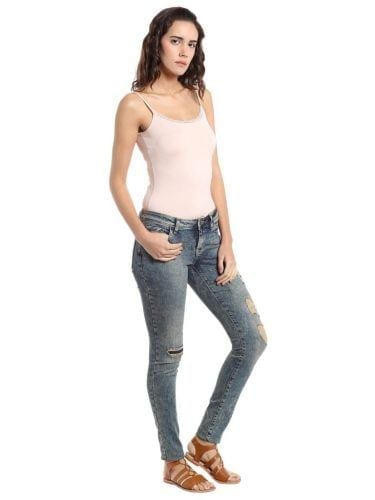 via
Distressed slim jeans from Vero Moda
Don't forget that this classy pair of distressed slim jeans is available for Rs. 4999, so hurry up and grab yours.
↓2 – Forever 21
Forever 21 is a brand for women and girls who are always having a time of their lives and therefore, needs a classy pair of jeans to look their best as well. And Forever 21 here, is the brand to help you get that. This brand too has been blessing women with a whole new style of jeans. And straight distressed jeans is one of them. Have a glance, below: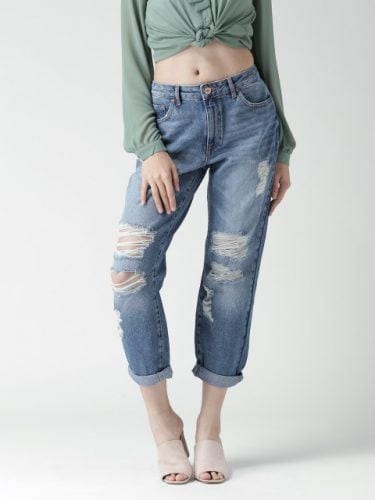 via
This nice and welcoming pair of jeans is available for Rs. 2099.
↓1 – Allen Solly
Allen Solly is another brand you can count on!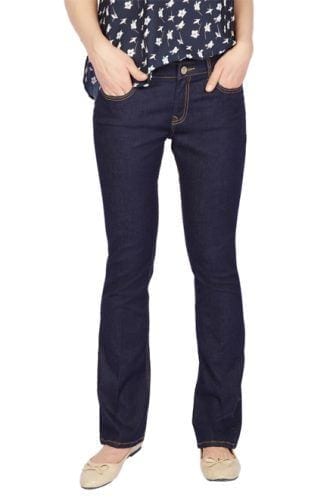 via
Here, check out the new design of Allen Solly – regular and plain blue jeans for women who don't much fancy eccentric styles. So this is for those who wish to stick to the old ones.
Women's slim fit jeans for only Rs. 804!