Staircase decor ideas – When it comes to staircase decor, there are endless possibilities. Whether you want to go for a classic and elegant look or something more modern and minimalistic, the choice is yours. You can also opt for a more funky and fun design if that's what you're after.
No matter what your style is, there are certain staples that should be included in every staircase. These include a stair runner, a wall art piece, and some plants. With these basics in place, you can then start to experiment with different ideas and pieces to create a look that is truly your own.
To get you started, we've compiled a list of our favorite staircase decor ideas. From modern and minimalistic looks to more fun and funky designs, there is something for everyone. So, what are you waiting for? Get started today!
Tips on Decorating Staircases
When most people think of staircases, they envision a boring, functional way to get from one floor to another. But your staircase can be so much more than that! With a little bit of creativity, your staircase can become a beautiful and inviting part of your home.
Some of the industry experts suggest the following few tips on how to decorate your staircase:
Hang artwork on the walls: Hanging artwork can instantly catch the attention of the guests. So if your walls don't have any pattern, think of adding any artwork.
Add a runner or carpet: In case your stairsteps don't have any painted pattern, think of adding a runner with every look. It'll not only look clean but also give your staircase an elegant appearance.
Put out a mat at the bottom of the staircase: Just below the steps, you can place a mat if it goes with the look you're trying to create. They can also be a good measure to keep your staircase clean.
How to Decorate Your Staircase?
You know that we love coming up with decor tips and ideas for you. With a little bit of effort, you can transform your staircase into a warm and inviting space. Following are some best staircase ideas to create a unique space!
1. Attractive Pictorial Staircase
Staircases are often seen as transitional spaces – places to move from one floor to another without stopping. But why not turn your staircase into a work of art by hanging artwork on the walls? It's a great way to add some personality to your home and make a boring space into something special.
2. Cedar Handrail
Looking for a fun and festive way to decorate your staircase this holiday season? Try decking it out with a beautiful cedar handrail! Cedar handrails are the perfect way to add a touch of holiday cheer to your home.
If you're looking for a way to make your staircase stand out this holiday season, cedar handrails are the way to go!
3. Bright Balusters
Isn't it interesting how with just a little effort you can create a magical way to decorate your staircase? Fairylight balusters are a great way to add magic to your plain and boring staircase. These enchanting lights will transform your staircase into a work of art.
Not only are fairy light balusters beautiful, but they're also safe. The lights are low voltage and don't produce any heat, so you can rest assured knowing that your family and home are safe.
4. Light-Detailed Steps
Fairylights don't only look good on staircase balusters or in fairy themed rooms, but putting them on steps will create a beautiful look as well.
Simply place the lights on the steps and watch as they come to life! You can even use them to create an illuminated staircase runner. So what are you waiting for? Transform your staircase into a work of art today with fairy detailed steps.
5. Add French Window to Quarter Space Landing
Paris! The city of love, romance, and gorgeous architecture. If you're lucky enough to live in a house with a french window, make the most of it with a beautiful staircase.
Building a staircase with a french window seating decor won't only give your house a modern look but it'll also be a space saver!
6. Library Staircase
How'd you like as you enter the house, you are greeted by a wide staircase but not only this, it has what you love the most, a whole new-style staircase library. The railing is made of brass and the steps are either covered in a plush carpet or run plains.
You can't help but smile as you make your way up the staircase, knowing that you've witnessed something beautiful. You can transform your own staircase into a dream library with a little effort as it's one of the best staircase ideas!
7. Under-stairs Shelf
If you have some extra space under your stairs, you can easily turn it into a stylish and functional storage area. An under-stairs shelf is a perfect place to store items that you want to keep out of sight.
Decorating an under-stairs shelf is a great way to add some difference to your normal staircase and you'll have extra space to place your storage.
8. Classy Mirror Wall
Adding a mirror to your staircase wall is a great way to add some extra light and dimension to your space. But what if you want to take it a step further and add some class to your staircase?
Hang a statement mirror: Choose a mirror with a unique cut and pattern.
Add sconces: Sconces are a great way to add some extra light to your staircase and give your space a more polished look.
9. Add a Stand to the Landing
Making your staircase landing the best it can be is important. After all, it's one of the first things people see when they come to your home.
But you don't want to do anything extra? Don't worry. Place a stand and a plant pot to create a warm and welcoming look. If your staircase is near the house entrance door, then this is one of the best staircase ideas near the entrance to execute.
10. Add Tiny Showpieces on the Steps
There's something so charming about a staircase with tiny showpieces. One way to add a touch of uniqueness to your staircase is with tiny showpieces. These can be anything from vases and sculptures to paintings and photos.
Tiny showpieces are a great way to make a big impact with minimal effort. So if you're looking for a quick and easy way to add a little bit of luxury to your home, this is it.
11. Add Antique Frames on the Stair-wall
Whether you're a big space or small space, adding some antiques can always add an awestriking look to your house.
Especially, decorating your staircase with these antiques can divert the attention of your guests to the antiques themselves and you don't have to put extra effort into the decor.
12. Floral Handrail
If you have a bright spiral handrail in your staircase, then we know what you should do with your staircase.
Adding delicate plant vines on the handrail of the staircase for decor is a great idea. So go with it, you won't regret it.
13. Under-Stair Plant Decor
We live in a modern world, so we should indeed display some modernity through our houses as well. Modern stairs design indoor can be planned in different ways.
Our personal favorite is utilizing your under staircase to place vases and adding stones to create a mini indoor garden look.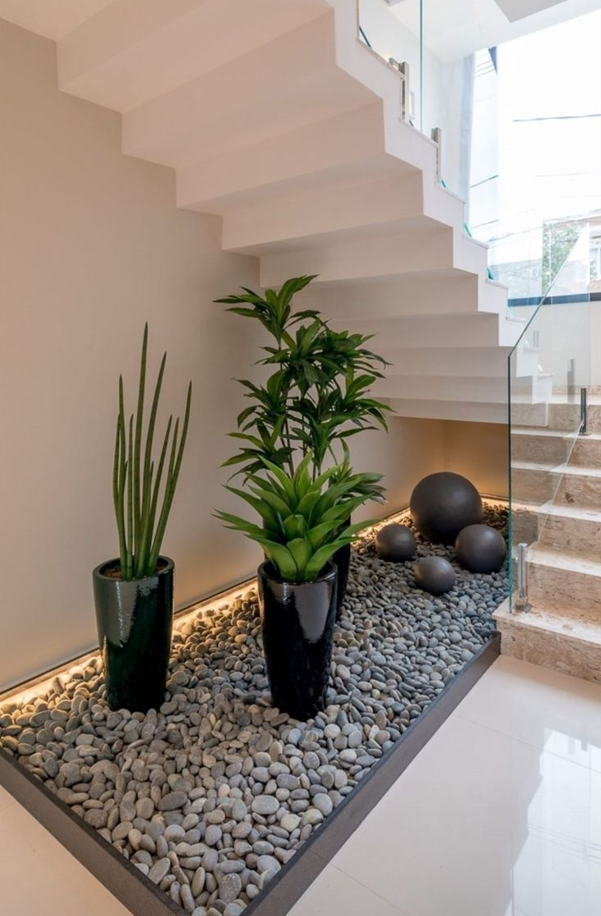 14. Add Close Patterns to the Wall
If you have a big staircase, then go for creating closely spaced patterns that can create a beautiful look for your staircase.
However, if your staircases are narrow, then you shouldn't go for closely packed patterns. Go for something placed at a distance.
14. Mirror Frames Staircase Decor
Mirror frames are perfect for your staircase, as you walk up the stairs, you can't help but notice the beautiful mirror frames that adorn each step.
These mirrors reflect the light in the stairwell, creating a warm and inviting atmosphere. The mirror frames also add a touch of elegance to the space, making it feel more like a luxurious home than a simple staircase.
15. Add Alike Patterns to the Riser
Adding similar patterns to your stair riser will give them a fun look. Make sure to get stickers, so you can remove them easily after some time and replace them with new ones.
16. Add Different Patterns to the Riser
If you don't want to add similar patterns to your stair riser, and want to create a deviation, then try out using the different pattern on each stair riser.
This will give your staircase a distinctive look and it'll be cooler than just using a single pattern. The rest depends on your personal preferences.
16. Add Scenic Creation to the Risers
You can add scenery on the risers, by either going with marbles to create such an effect. But if you want something more temporary and cheap, then you can also use marble sheets.
17. Book Lover Staircase
This book-lover staircase is actually going to make your staircase the talk of the neighborhood because it's quite stylish and unique.
So paint your favorite books on the stairs and make an exemplary staircase. You don't have to paint the walls along with stairs as it will create a more stuffed effect and we don't wanna go for it!
18. Edwardian Staircase Decor
The Edwardian era was known for its opulent design, and that extends to staircases. From grand carved wood staircases to more simple and elegant designs, there are plenty of ways to add a touch of Edwardian style to your home.
So if you want a classic touch, go for this beautiful and simple staircase which doesn't need much decoration stuff.
19. Jute Staircase
Making your staircase look good doesn't have to be expensive. With a few jute hangings, you can easily transform your stairs into a work of art. Jute is a sturdy material that can be easily found at most craft stores. And best of all, jute hangings are relatively inexpensive.
To get started, simply choose the design you want and purchase the necessary jute. Then, cut the jute to the desired length and use hot glue or tape to attach it to your staircase. That's it! With a little bit of effort, you can easily take your staircase from dull to dazzling.
20. Mural Staircase Decor
Adding a mural to your staircase is a great way to decorate the staircase. Murals can be simple or complex, depending on your taste and budget. You can find murals at most home improvement stores, or you can hire a professional to paint one for you.
It's important to choose a design that you love, as you'll be looking at it every day. But don't worry – with a little planning and effort, you can create a beautiful mural that you'll be proud of.
21. Wall Paneling
If you're looking for a way to spruce up your staircase, staircase wall paneling is a great option. In fact, it's the best way to decorate a staircase wall. With a good color choice and the right kind of lights, your staircase is going to look chic.
22. Go Bold with Colors
Staircases are often an afterthought in home design, but they don't have to be. A staircase can be a beautiful and impactful design element in your home. When done right, a staircase can add drama and make a statement.
If you're thinking about adding some flair to your staircase, bold colors are a great way to do it. Whether you go for a single pop of color or an entire rainbow, bold colors can take your staircase from nothing to wow.
23. Berlin Street Art Staircase
The Berlin Street Art is a public art installation that aims to bring some beauty and color to the city of Berlin. But why only limit this art to the street?
The staircases can be decorated with a variety of colorful designs, each one unique. You can add symbols, letters, portraits, and so much more.
24. Ombre Staircase
Staircases are a necessary but often overlooked part of any home. They provide a functional way to move between floors, but they can also be a stunning design feature. Ombre staircases, in particular, are a beautiful way to add a touch of elegance to your home.
An ombre staircase is achieved by painting the treads and risers in a gradient of two or more colors. The effect is similar to that of an ombre wall, but with a more dramatic impact. Ombre staircases can be as subtle or as bold as you like, and they are a great way to add a unique touch to your home.
25. Add Unique Wall-Hangings
Trying handmade or unique wall hangings on the staircase can add a different look to your house. You can find wall hangings in a variety of materials, including metal, wood, and fabric. And there are a variety of designs to choose from, so you're sure to find one that fits your personal style.
You can either place a vase in these wall hangings, or your books can add a touch of sophistication there by just hanging them!
26. Go Green
If you're looking for a way to add a little bit of life to your home, why not try decorating your staircase with plants?
It's a great way to bring some nature indoors, and it can brighten up even the darkest of stairwells. Plus, it's a relatively easy way to change up your decor without having to make any major changes to your home.
27. Fixed Wall Shelves
Fixed wall shelves are great ideas for staircase. Not only do they look beautiful and elegant, but you can modify them a little to enhance the overall look of your staircase.
You can get lights installed inside these shelves and you can place vases or different showpieces in these shelves.
28. Paint the Family Tree
The charming family tree staircase is the perfect way to display your family history. Featuring a beautiful tree design with leaves or branches for each family member, this decor will add a touch of grace to any home.
However, make sure to place the decal in the right spot. Some people like to put them on the bottom step, while others prefer the top step.
29. Raw-Looking Brick Staircase
You can use raw-looking bricks to add a touch of rustic charm to your stairs. You don't have to be precise in placing the bricks or painting them, placing them irregularly creates an interesting and eye-catching design. This is a distinguished way to add a unique touch to your home.
30. String Art Staircase
This string art staircase is the perfect way to add a little bit of fun and whimsy to your home. It's a great project for kids and adults alike, and it's sure to become a conversation piece in your home.
To make your own string art staircase, you'll need some supplies. Once you have your supplies, it's time to get started. First, decide where you want your string art to go. Then, start nailing or tacking your string into place. Once you end, we're sure you're gonna love the masterpiece.
31. Landing Coffee Spot Decor
A coffee table is a great way to add style to your living room or den. But why stop there? A staircase is a perfect place to put a coffee table, and it can add a touch of elegance to your home.
There are a few things to keep in mind when choosing a coffee table for your staircase. First, make sure the table is the right size for the space. You don't want it to be too big or too small. Second, think about the style of the table. Do you want a traditional table or something more modern? Lastly, consider the materials. A glass table can add a bit of sophistication, while a wood table may be simple but attractive.
32. Laser-cut metal stair panels
If you're looking for a unique and stylish way to update your stairs, look no further than laser-cut metal stair panels. These panels are available in a variety of materials, including brass, stainless steel, and aluminum, and can be custom-designed to fit your staircase.
Laser-cut metal stair panels are a great way to add a touch of luxury to your home, and they're also surprisingly affordable.
33. Mandela Art Staircase
If you are looking for a way to add some pizzazz to your staircase, why not try some Mandela art? This type of art is not only beautiful, but it is also very meaningful.
Mandela art is a great way to add some color and life to your staircase; from colorful and bold designs to more subtle and sophisticated pieces, there's sure to be a mandala art idea that's perfect for your home.
34. Wine Cellar Staircase
If you're looking for a fun and unique way to decorate your staircase, why not try a wine cellar? However, you'll want to make sure the staircase is well-lit so that your guests can see the bottles on display.
With a little bit of planning, you can turn your wine cellar staircase into a real showpiece. So get creative and have fun!
35. Bamboo Balusters
Bamboo balusters are a popular choice for staircase. They are strong and durable, yet lightweight and easy to install. Plus, they add a touch of luxury to any home.
Installing bamboo balusters is a relatively easy process. If you're looking for a way to add a touch of luxury to your home, bamboo balusters are a great option. They are strong and durable, yet lightweight.
36. Under-staircase Tv Unit
If you're looking for modern staircase decor ideas, then you've come to the right place. This decor idea is simple yet modern.
You can decorate your staircase with some lights and on the staircase wall, you can set your TV unit. Moreover, this decor style can actually save some space and create stylish staircase.
37. Staircase Geometrical Tape Patterns
You don't always have to buy expensive wall hangings and decor for your staircase to make them stand out among the rest.
You can use some tape and paint to create this lovely and sophisticated geometrical tape pattern. Also, the best thing is that you can do this on your own!
38. Crystal Staircase
While this idea might seem quite strange, crystal stairs can add a whole new level of exquisite effect to your staircase. You don't have to do anything extra along with this crystal staircase, as it looks elegant on its own.
39. Glass Balusters
To add some style and an eccentric look, glass balusters are a perfect idea. These balusters will create a shiny look and don't need any other decoration item.
40. Patterned Wooden Baluster
You can add simple wood pieces that are finely evened and create your own handrails and balusters. You can use light-colored wood with more bright surroundings. However, if your surrounding is darker, go for dark color would selection.
41. Faux Planked Walls
Planked walls staircases are easy DIY to decorate your staircase. All you've to do is find good plank pieces and paint them according to your choice.
42. Souvenirs Staircase Decor for Travel Enthusiasts
Are you a much of a traveler but you don't have a place to decorate the souvenirs? Well, don't worry, the staircase wall is a perfect place to showcase these souvenirs.
43. Clock Staircase
An old antique Grandfather clock can add a touch of class to your house. However, if you've a small space then it can be quite annoying to find the right spot to place it.
But don't worry; place this clock on your staircase landing as a showpiece to add a touch of class and elegance.
44. Stringer Pictorial Decor
We all have seen pictures hanging on the walls. However, it's quite unlikely to watch these pictures hanging on the staircase stringer. So why not try something new?
45. Spooky Staircase
Want your Halloween decoration to stand out among the rest of the decor? Well, we've got you covered. These simple yet fascinating sheets carved out patterns creating a shadowy look with some spooky signs can take your Halloween decor to another level.
46. Attractive Halloween Decor
If you don't have much time to get done with your Halloween decor, so you can create a fascinating Halloween look with some simple stuff, such as a net, and a broomstick.
47. Rainbow Baluster Decor
The rainbow baluster decorations are perfect for adding a little bit of color to your home. And best of all, they are sure to bring a smile to your face each time you see them.
48. Runner and Floral Decor
Is your wedding around the corner and you're looking for stairs decoration ideas for wedding? Well, this beautiful and easy wedding staircase is absolutely lovely and charming. All you need is some runners and flowers.
49. Flowers and Candle Staircase Decor
If you want the best staircase for a wedding, then look no further. This classy infusion of green plants, candles, runner, and white flowers are just a treat to sight.
50. Heavy Flower Staircase
One of the best staircase wall decorating ideas for your wedding is to get the staircase balusters decorated with heavy flowers because floral ideas never go out of trend.
How can I make my stairs more attractive?
There are many great ideas to make your staircase look more attractive. However, in general, you can add a runner, lights, plants, and a mat to your staircase to make it appear attractive.
How can I decorate my stairs?
There are so many ways to decorate your stairs! You can paint them, add carpet or rugs, or even put up wallpaper. If you're feeling really creative, you could even try stenciling or decals. Whatever you choose, make sure it reflects your personal style.
What are trends on staircase?
There are many different trends on staircase, ranging from the materials used to the different styles that are popular. Some of the most popular trends include using natural materials such as wood or stone, as well as incorporating unique design elements such as glass panels or metal handrails. If you're looking to create a stylish and modern staircase, then incorporating one or more of these trends is a great way to do it.