Top Modest Fashion Designers. Modest Fashion, designers, influencers and bloggers, aim to bust the myth that dressing modestly is synonymous with boring, uninspired and monotonous clothing. As stated before, cultural, social and religious diversity results in different opinions from all over the world. A Muslim woman's idea of modesty may be significantly different from a non-Muslim woman. The divide exists even within the Muslim women as they all have their own interpretations of what modest dressing is supposed to be like for them.
Modest fashion has found its footing in the modern fashion scene thanks to brands like H&M, Dolce & Gabbana and Uniqlo releasing collections that cater to people interested in this trend, not to mention the kickstarting of Modest Fashion Weeks in cities like London, Singapore and Istanbul.
The Best Modest Fashion Designer Brands
The term 'modest fashion' is being tossed around a lot lately, the reason being a tremendous increase in popularity in recent times which had been on the rise since the mid-2000s. The global 'modest fashion' market is growing and is reportedly worth billions of dollars already thanks to social media influencers and bloggers.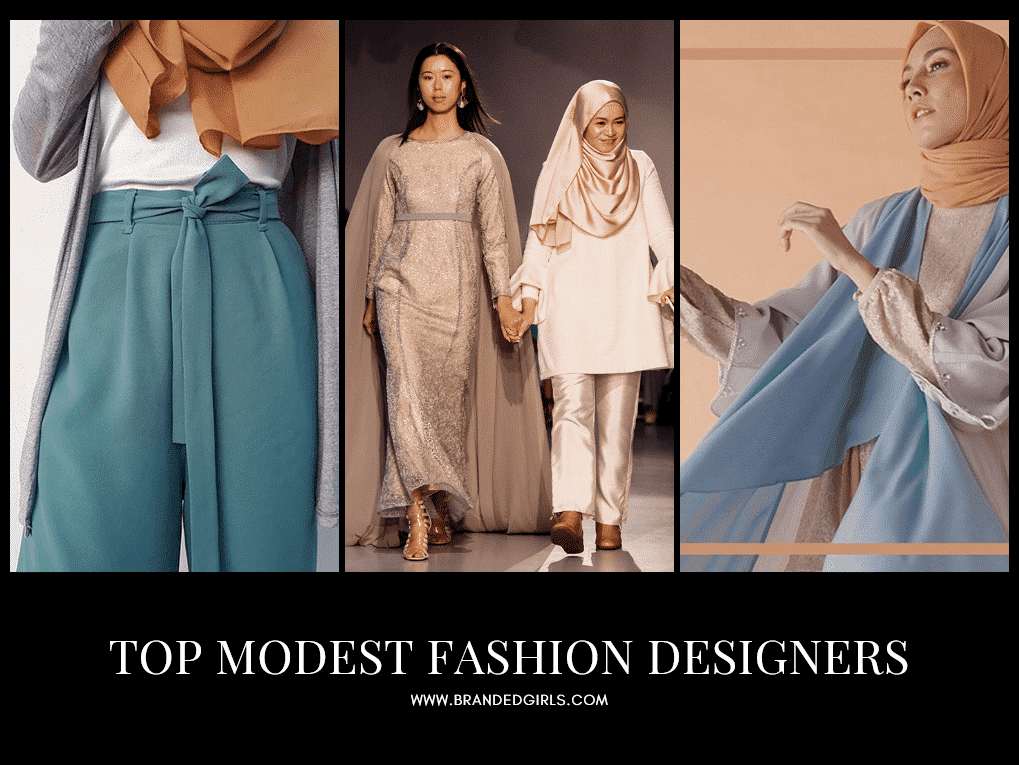 What is Modest Fashion?
There is no exact and unambiguous definition of modest fashion as women all over the world have a different idea depending on their culture, religion and personal preferences but a couple of things are widely recognized:
The term refers to clothes that are loose-fitted, showing as little skin as possible, comfortable according to the person's own preferences. Things like oversized silhouettes—like the super-wide trousers or statement sleeves.
Modest fashion, while growing largely from and within Abrahamic faiths (Judaism, Christianity, Islam), isn't restricted to religion. It is interesting to note that many non-religious women are a part of this burgeoning trend.
Here is a list of the breakout modest fashion designers who've taken the world by storm with their unique creations:
15- Lulu Alhadad
14- Hafizah Ghazali
13- Nurita Harith
12- Raja Nadia Sabrina
11- Dina Torkia
10- Melanie Elturk
9- Rico Rinaldi
8- Mohd Hafizi Radzi Woo
7- Diana Kotb
6- Ria Miranda
5- Ibtihaj Muhammad
4- Hana Tajima
3- Anniesa Hasibuan
2- Vivi Zubedi
1- Dian Pelangi
↓ 15 – Lulu Alhadad
Singaporean fashion designer Lulu Alhadad launched her namesake brand in 2005. Her collections include flamboyant and bold designs, bright colors, unique fabric combinations and detailed embellishments. If you're looking for traditional modest clothing like jalabiyas, kaftans and bridal dresses, this is the brand for you. You should also check out these Top 10 Middle Eastern Beauty Bloggers to Follow in 2019.
Instagram Followers: 30.2k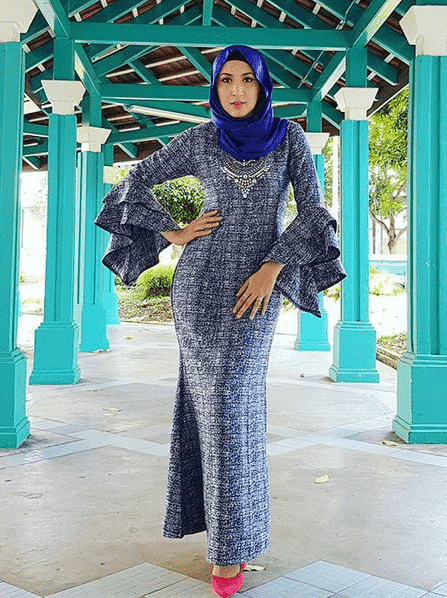 ↓ 14 – Hafizah Ghazali
Hafizah Ghazali is a Malaysian Modest wear designer who studied at Madrasah Al-Maarif Al-Islamiah for 12  years and then moved to LaSalle College of Arts and graduated from there. She was chosen to display her first 6 piece collection labeled "Sutra", inspired by 1930s beachwear, at the Audi Fashion Festival in 2014. She cites her grandmother as a great influence and wants to introduce elegant, modest and proper Islamic clothing for Muslimahs around the world.
↓ 13 – Nurita Harith
Hailing from Malaysia, Nurita Harith is Bachelor of Fashion Design degree holder from Surrey Institute of Art in London. Her first fashion show at the Kuala Lumpur Fashion Week in 2006 gained her recognition in the fashion industry. Nurita's creations follow the Western definition of modesty of showing less skin, with multiple layers and drapes, sharp cuts and silhouettes which are in soft, muted and dusty colors. Her dresses are uniquely feminine and breath-takingly beautiful.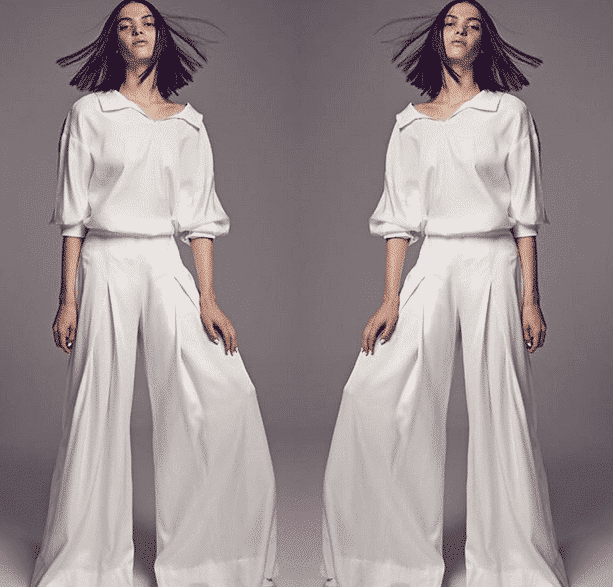 ↓ 12 – Raja Nadia Sabrina
Raja Nadia Sabrina is a Malaysian blogger and influencer who's been blogging for years about things like fashion, makeup, lifestyle and travel. She's described herself as being a majorly into all forms of art and is constantly traveling from one place to another. She loves taking pictures and has also practiced law for six years. Her modest fashion collection 'Aere' was launched in 2014 and has since expanded to menswear and kidswear as well. Aere won the Best Womenswear Collection award at Kuala Lumpur Fashion Week 2015.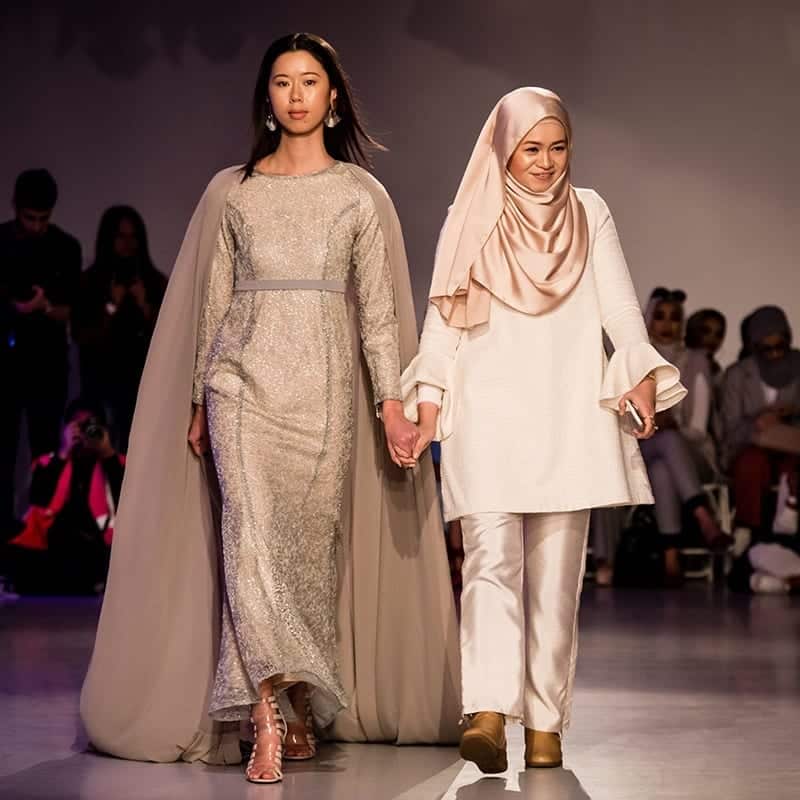 ↓ 11 – Dina Torkia
British influencer Dina Torkia or Tokio has been blogging about modest fashion for the past ten years. She has an extremely significant social media presence where millions of people follow her on Youtube and Instagram as well as Twitter. She posts videos on her Youtube channel regularly concerning makeup, modest fashion, travel and lifestyle. She launched her modest collection 'Dina Torkia' in 2015. Apart from her own collection, she can be seen in her videos giving suggestions, critique and advice about the best modest fashion brands.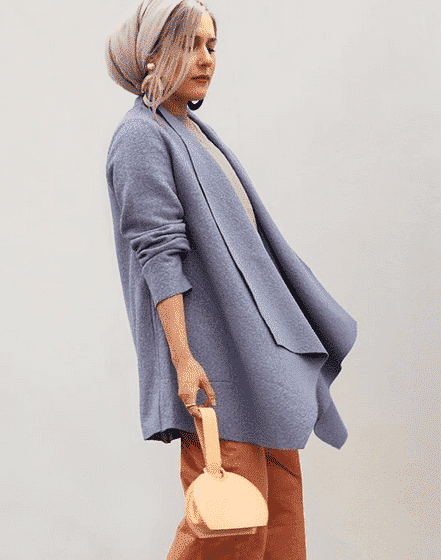 ↓ 10 – Haute Hijab
Haute Hijab was founded by Melanie Elturk and husband Ahmed Zedan in 2010. As a Muslim-American, Melanie recalls her difficulty in obtaining hijabs that were suited to her style and weather. The lack of diversity, representation and confidence in their identities had lead to Muslim women's decline in the use of hijabs. Melanie sought to fix that and started by modifying ready-made scarves from vintage stores and selling them as hijabs online. The brand's major objective is to prove that hijabs and being American are not mutually exclusive. Haute Hijab provides a wide variety of hijabs depending on fabric and occasion. Do have a look at these Top 10 Brands to Buy Eco-Hijabs.
↓ 9 – Rico Rinaldi
Rico Rinaldi is a Malaysian fashion designer who rose to fame for his creations and unique style a decade ago. He graduated from Limkokwing University, where he studied fashion and retail. His mother was a beader for a bridal company. Rico is known for his stunning bridal gowns which are magnificently crafted and embellished and yet are modest and cover the entire body. He has also designed menswear, scarves and special collections like a Ramadhan collection.
↓ 8 – Fiziwoo
Fiziwoo is a luxury womenswear brand established in 2009, by a young aspiring Fashion designer, Mohd Hafizi Radzi Woo. Later in 2011, was joined by Architecture based designer, Izree Kai Haffiz. FIZIWOO principle of fashion is 'Less is more'; incorporating sleek and clean design but retaining the femininity and softness of material in order to balance their creation. With the mix of architecture and fashion background of the designers, the understandings of balance, proportion and texture are impeccable as the designers are always in search for elegance, chic and timeless creation. FIZIWOO has won numerous major competitions and has been featured in top magazines in Malaysia.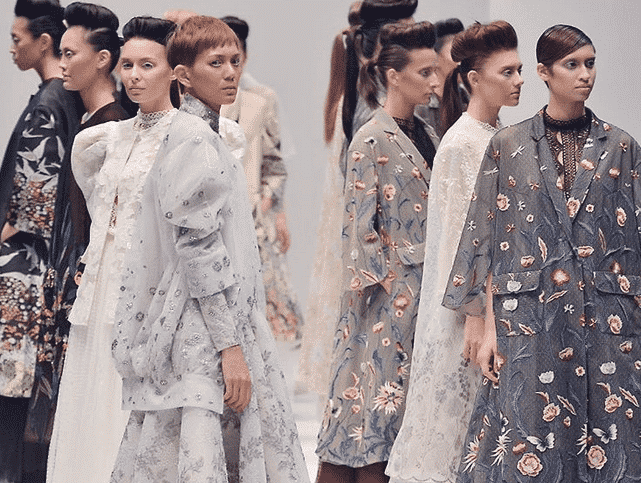 ↓ 7 – Diana Kotb
'Diana Kotb' is an Australian luxury modest-wear for women. After completing a Communications Degree and a Fashion Design and Business course, Kotb, embarked on a 10 year career in the fashion industry working for a number of top Australian Fashion Designers. Kotb then moved to Australia's number one fashion magazine, Marie Claire where she spent four years. Like many Muslim hijabis she found it hard finding luxury clothing that was both modest and stylish and that was when her namesake label was born. Her cuts and prints are gorgeously crafted, plus the bridal wear is mesmerizing with intricate details and embellishments.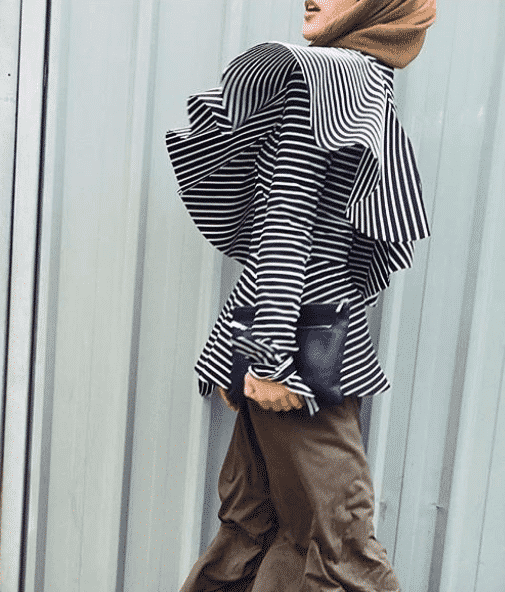 ↓ 6 – Ria Miranda
Ria Miranda is a 33-year-old Indonesian fashion designer whose collections have been featured in Indonesian Fashion Week since 2012. She graduated as a fashion designer from ESMOD fashion school in Jakarta in 2008, Indria Miranda was once a stylist in Noor Magazine before she started to build her own brand.  The brand's original name was Shabby Chic by Ria Miranda which was rebranded in 2009 as simply Ria Miranda. The label's collections offer clean and clever cuts in pastel colors inspired by the designers travels and her desire to introduce the world to the best modest-wear for women there is.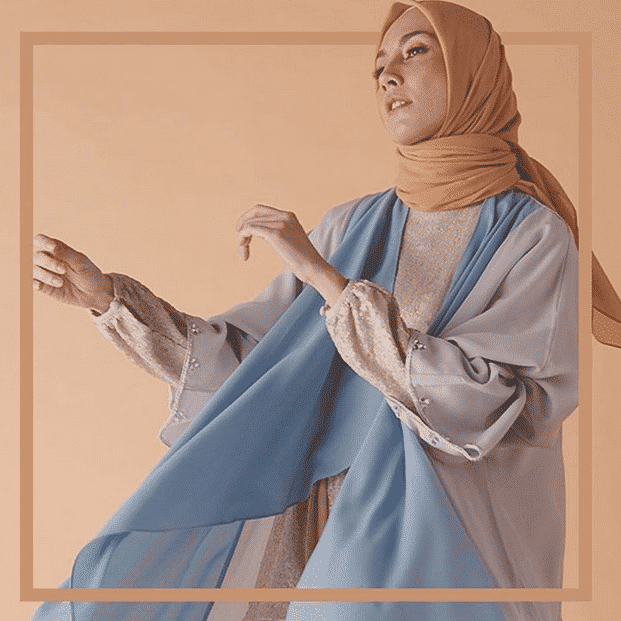 ↓ 5 – LOUELLA by
Ibtihaj Muhammad
Ibtihaj Muhammad is an American sabre fencer, and a member of the United States fencing team. She is best known for being the first Muslim American woman to wear a hijab while competing for the United States in the Olympics. She earned the bronze medal at the 2016 Summer Olympics as part of Team USA in the Team Sabre, becoming the first female Muslim-American athlete to earn a medal at the Olympics. In 2014, Ibtihaj and her siblings launched their own clothing company, Louella, which aims to bring modest fashionable clothing to the United States market. Here are 10 Ways to Style Jeans with Abaya Modestly.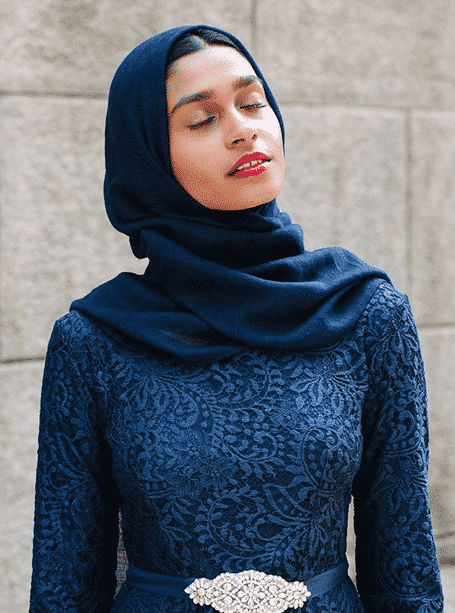 ↓ 4 – Hana Tajima
Hana Tajima is a designer and visual artist. Born and raised in the UK, her parents both artists, she was raised in a highly creative environment with an emphasis on aesthetic and expressive freedom. With a professional background in fashion, Hana went straight from a design education to starting a womenswear label, MAYSAA, which gained much success both in the UK and internationally.  Notable features and interviews include ELLE Italia, ELLE Canada, Address Magazine, and Harper's Bazaar. Hana has worked with artists and designers such as Rosie Lowe, Port St Willow, Bing and Ruth, and Okuda Yusai on collaborative fashion and video projects, writing for her blog and print publications.  Her photographic work has also been featured in ELLE Italia and many online blogs and journals.   In July 2015 Hana launched a collaboration with UNIQLO on a collection of womenswear.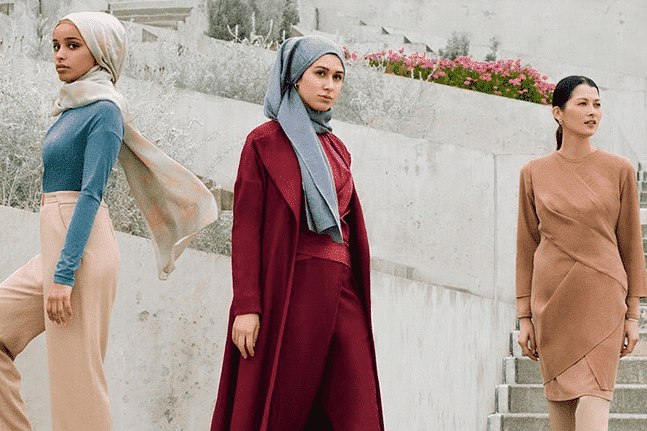 ↓ 3 – Anniesa Hasibuan
Anniesa Hasibuan is an Indonesian fashion designer. Born in Jakarta, she opened her first boutique in Kemang in early 2015. She made her fashion debut in London in March 2015, and has travelled to Europe and the United States to showcase her work. In September 2016, at her debut show at New York Fashion Week her collection featured the hijab in every look. At a subsequent show in New York, she chose models who were either immigrants or children of immigrants.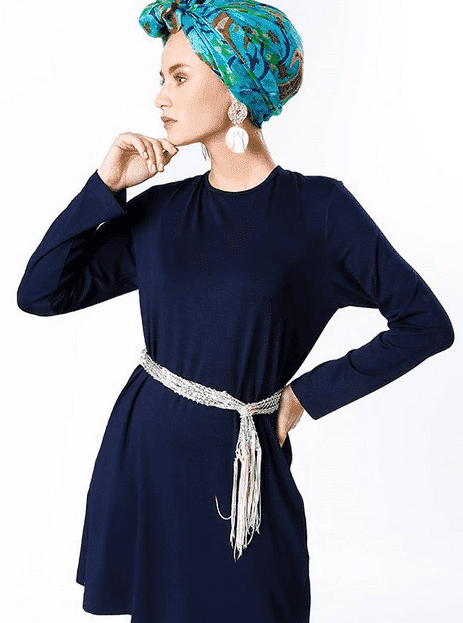 ↓ 2 – Vivi Zubedi
VIVI ZUBEDI is a Muslim fashion brand established in 2011 by Vivi Zubedi herself that provides the up-dated and newest hijab styles that are elegant, stylish and versatile. The signature product of VIVI ZUBEDI is abaya. Vivi Zubedi brought her signature modest wear to the mainstream with her Fall/Winter 2018 collection runway show at Industria as a part of NYFW: The Shows. The fashion designer traveled from her home country, Indonesia, to display her embellished, statement RTW and hijab collection to the US fashion industry.
The FW18 collection, entitled Urang Banua, was originally crafted as a cultural statement for quality of life and economic welfare of weavers and fabric artisans in the area of South Kalimantan: Pagatan and Sasirangan. As an entrepreneur herself, Vivi has made it her mission to support other entrepreneurs especially these women in South Kalimantan.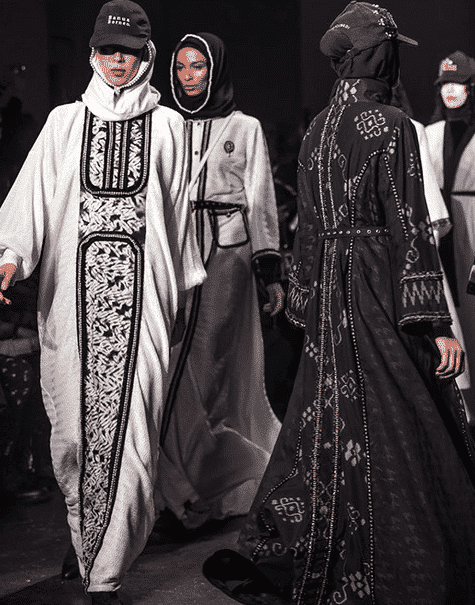 ↓ 1 – Dian Pelangi
Starting from their love of Indonesian culture and traditional fabrics, Mr. Ir. Djamaloedin and Mrs. Hj. Hernani established Dian Pelangi in Palembang, Sumatera, Indonesia in 1991.
The brand has reached its 26th anniversary and continues to grow since their daughter Dian Wahyu Utami, or known as Dian Pelangi, was appointed as the Creative Director and expand the brand to 14 boutiques spread throughout Indonesian cities and Malaysia.
With a mission to promote Indonesian culture, Dian Pelangi emphasizes on its exceptional craftsmanship and use of traditional woven fabrics known as Tenun, tie dye fabrics, and batik, which makes it unique to the market.