Cute African Outfits for Children. Kids fashion and style has emerged as a unique industry. The sense of dress-up and style is developed in a kid at quite an early age which makes it perfect for huge brands and designers to launch unique kids' collections.
Mommies are often concerned about their children's clothing options but the brands like Tommy Hilfiger, Zara, Dolce and Gabbana, Nike, and much more have made it a bit easier. The colors are no more designated to specific genders rather these are collectively used for baby girls and baby boys clothing items. African fashion is being loved by mommies all over the world because of its diversity and distinctive quality. African clothing material and prints are quite popular and trendy considering the latest fashion trends which incorporate all the striking colors and bright shades which look chicer especially on little kids.
How to Dress Kids in African Outfits
The trendy African prints can be combined with western denim pants or shorts to create a beautiful amalgam. Ankara and Dashiki are the most famous prints and styles in the African fashion industry. Children can equally slay these enchanting prints if worn according to the recent trends. The article is going to cover various prints and designs that are specifically appropriate for you mini fashionistas, girls as well as boys. The designs are some of the best and latest and will give you a clear idea regarding how you can style your kids using the chic African prints and your sartorial expertise to create your very own haute couture. Some of these are specifically for your little princesses and others are for the cool little guys.
↓ 20 – Ankara Frocks for Little Princesses
The adorable and stylish wax prints that are originally from the street of Lego are taking over the world's fashion. The prints have now become too mainstream but you can use them for creating exquisite short frocks for your mini-me. Also, you can go for similar styles for your own self since Beyonce and Kim K have proved then mommies can totally slay these trendy clothing items. Off-shoulder frocks with a short and loose body and a whole lot of pleats is a perfect option for you if your kid is from 3-12 years old. Also, a little frilly look at the shoulders can do its magic. Pretty little Ankara sandals and pumps are also available for kids at Etsy. You can also find pretty little Ankara printed hairbands and other accessories on the site. Here are 19 Adorable Ankara Dresses For Kids 2017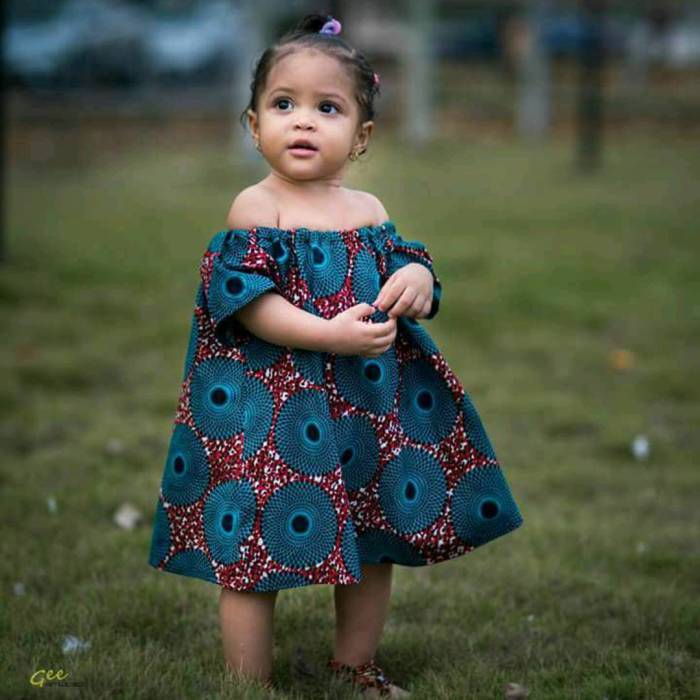 ↓ 19 – Dashiki Tops for Baby Girls
Dashiki which is a renowned ethnic top style worn by native Africans can also be worn by your mini fashionistas with denim shorts or jeans. The embroidered sleeves and v-neckline are super trendy when it comes to street style. You can also go for printed dashiki tops if you are not much fond of the embroidered clothes. Traditionally it is a thigh length top but you can also go for shorter length according to your desire. These can be worn with simple sneakers as well as joggers.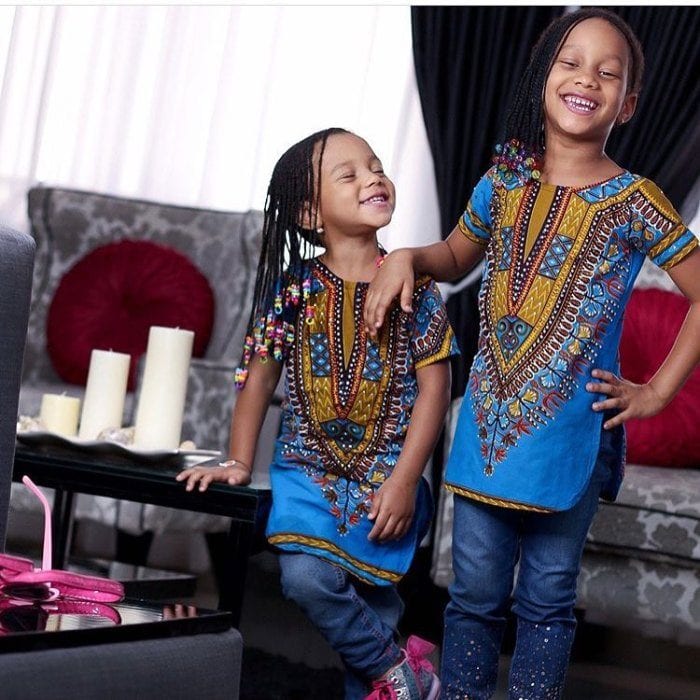 ↓ 18 – Kaftans for Little Girls
Kaftans are the traditional outfits in Africa. Little girls can totally rock these beautiful clothing items in vibrant colors like blue and pink. Also wearing kaftan style short tops with shorts are very trendy. These are also perfect for party wear as well as beachy summers. Kaftans can be embellished with pearls or crystal stones to make them look even more attractive. Here are some of the cutest Frock Designs for Little Girls.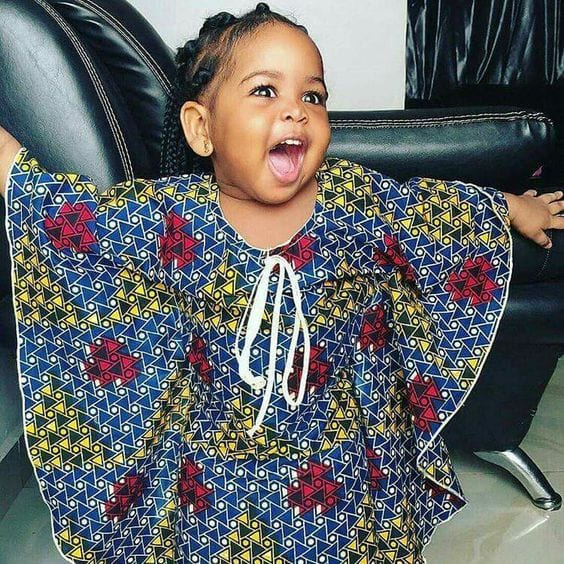 ↓ 17 – Gele Style Outfits for Kids
Gele is a cultural head wrap in the African states. Kids can actually slay these geles in pastel colors with different styles of maxis or onesies. Since gele is a very ethnic garment piece, thus it looks just perfect on traditional African themed parties or weddings.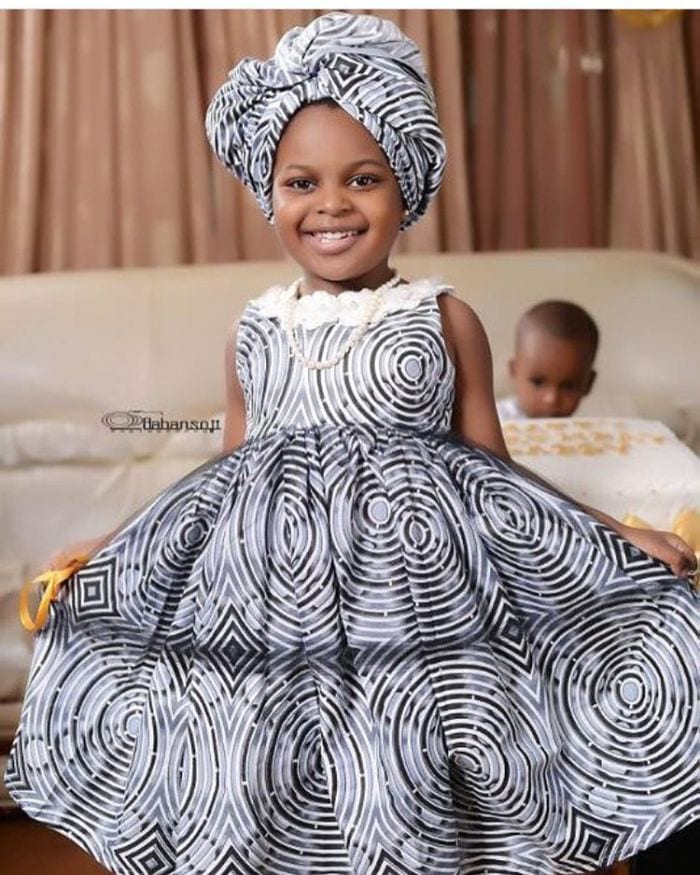 Via
↓ 16 – Ankara Skirts for Little Princesses
Little girls are often obsessed with mini-skirts since they look quite fashionable and trendy when it comes to birthdays or parties. Ankara printed skirts with denim or chiffon tops look both funky and stylish. These can be worn with beautiful flower crowns or headbands on occasions like parties. Also, these enchanting skirts are mostly worn with simple plain or less patterned shirts. RECOMMENDED: 20 Cute Holiday outfits for Kids for Different Occasions
↓ 15 – Monochrome African Prints for Princesses
Not many mothers are a fan of bold and bright colors, Ankara and dashiki prints are also available in monochrome shades. Ankara sokotos (pants) in black, white or gray patterns can be worn with simple white cotton tops or button down dotted shirts. Black glossy pumps look quite stylish with such dresses.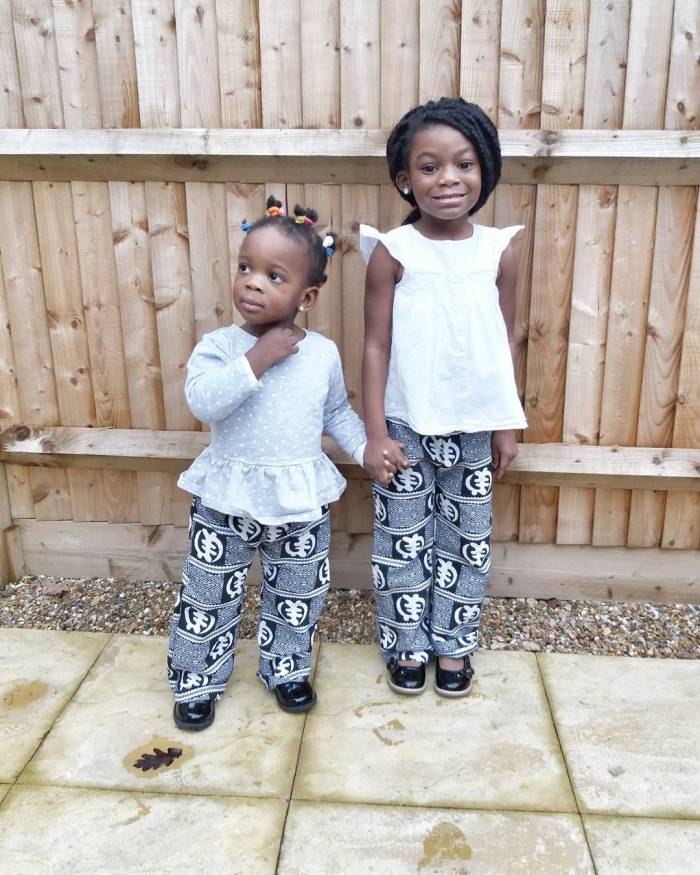 Via
↓ 14 – Kente Prints for Baby Girls
Many marvelous styles can be created with silk or cotton Kente cloth which is usually an amalgam of yellow, blue and green colors. Little girls usually love frilly frocks in kente material. The uniqueness and comfort of the cloth make it perfect for your princesses. Also, these can be worn with strappy sandals which will relish the entire dress. Don't miss out these 10 Most Fashionable Kids on Instagram You Should Follow.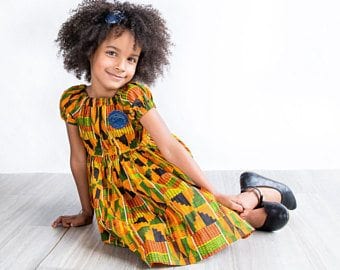 ↓ 13 – Ankara Jumpsuits for your Mini-me
Jumpsuits and rompers are everyone's heart favorite, from adults to kids. Then comes Ankara jumpsuits in the amazing colors and patterns. Kids look even chicer in these onesies.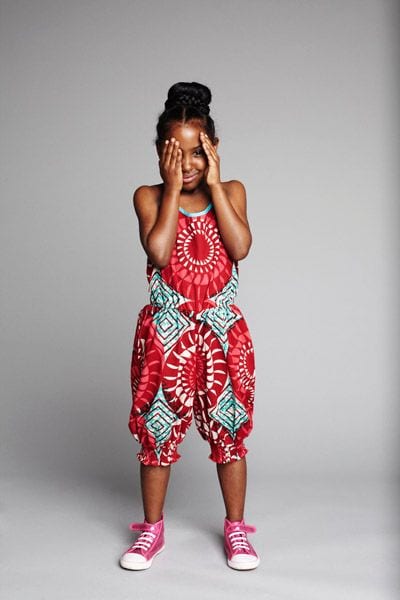 ↓ 12 – Ankara Jackets for Girls
Who won't love an Ankara bomber jacket? Just like adults, kids have their own style statement that includes funky Ankara jackets as well. Kids can carry these jackets with boots in winters to have a unique look among the typical ones. Also, these are now available in bomber jackets which make them irresistible for the little fashion gurus. Here are the most amazing Kids Halloween Costumes Ideas.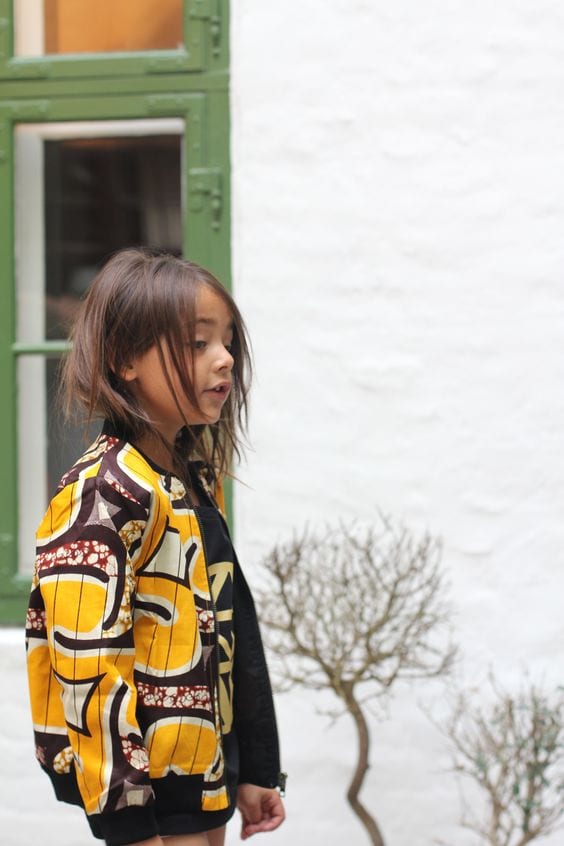 ↓ 11 – Dashiki Skirts for Girls
Dashiki embroidered skirts with frilly tops is a big yes for every little girl who wants to have a dazzling look on a wedding or birthday party.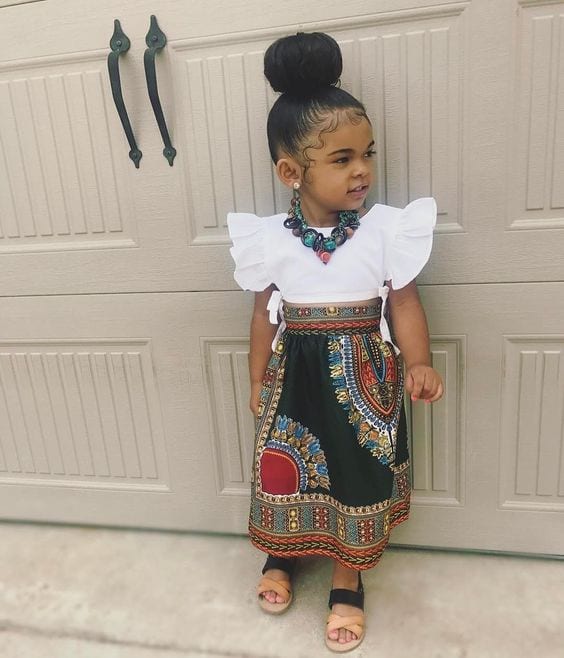 ↓ 10 – Ankara Blazers for Baby Boys
Who can say no to Ankara blazers? Guys who want to look dope on their school functions and special events can go for a simple button down shirt and black skinny jeans along with Ankara blazers and smart boots. RECOMMENDED: Kids Room Decoration Ideas- 12 DIY Ideas Your Kids will Love
↓ 9 – The Ghanaian Smock for Baby Boys
Ghanaian Smock which is the native clothing style of Ghana which can be rocked by little boys if worn with faded jeans and boots or white jeans and white sneakers. The strippy pattern and embroidered neckline are pretty different and stylish for kids.
↓ 8 – Ankara Shorts for Boys
Ankara shorts are the most adorable clothing items for your little boys. Pair them up with casual plain tees. Also, the style is extremely comfy for summers.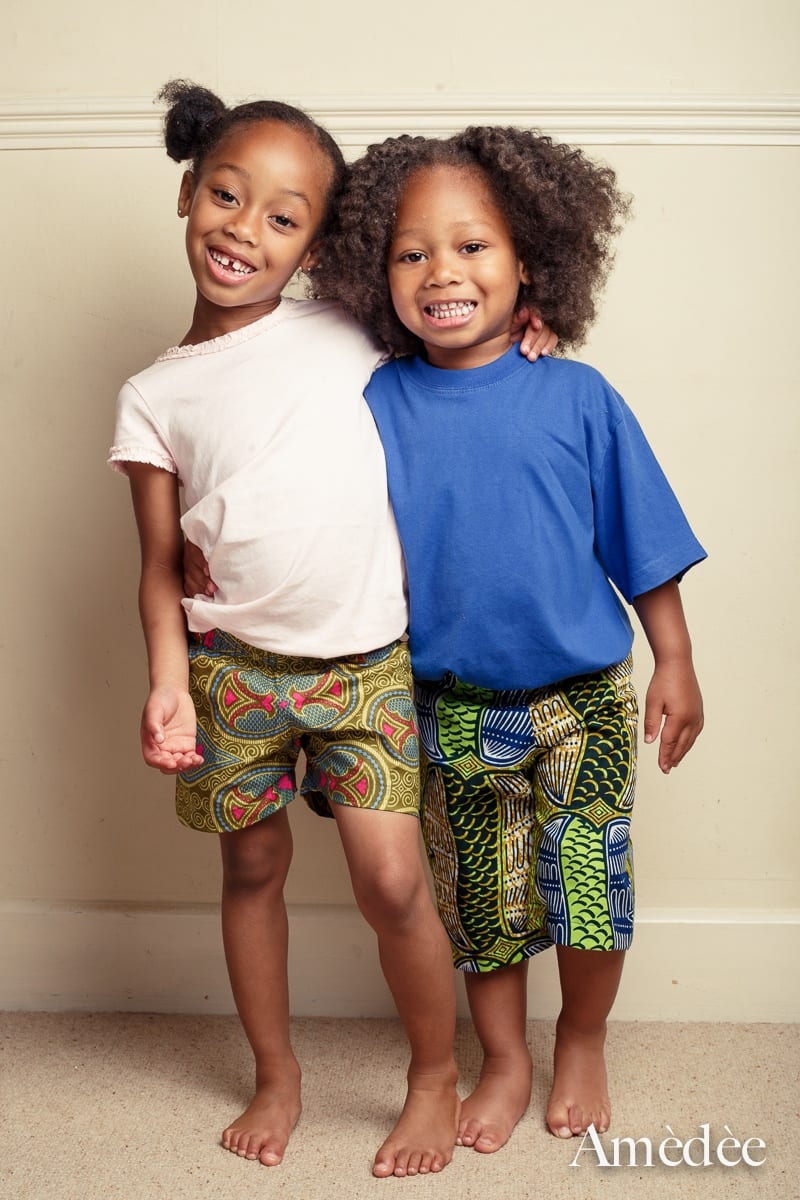 ↓ 7 – Kente Outfits for Boys
Boys can wear Kente tops with sokotos in summers. The colors look just wondrous in the summers. Also, the look is very unique. Wear them with sneakers and denim jeans and jacket if your boy loves denim.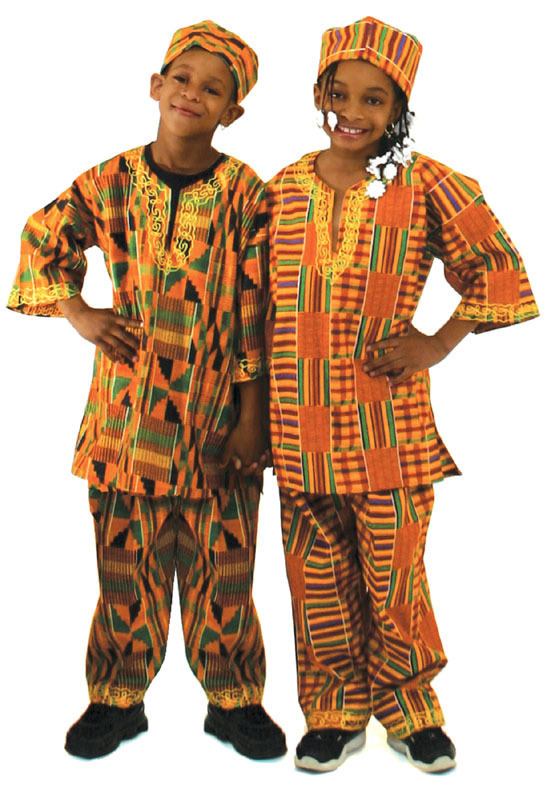 ↓ 6 – Ankara Tops for Little Boys
Ankara tops can be worn with denim shorts and sandals in spring and summers. The colors are really cool for the season. Here are some amazing Father and Son Matching Outfits.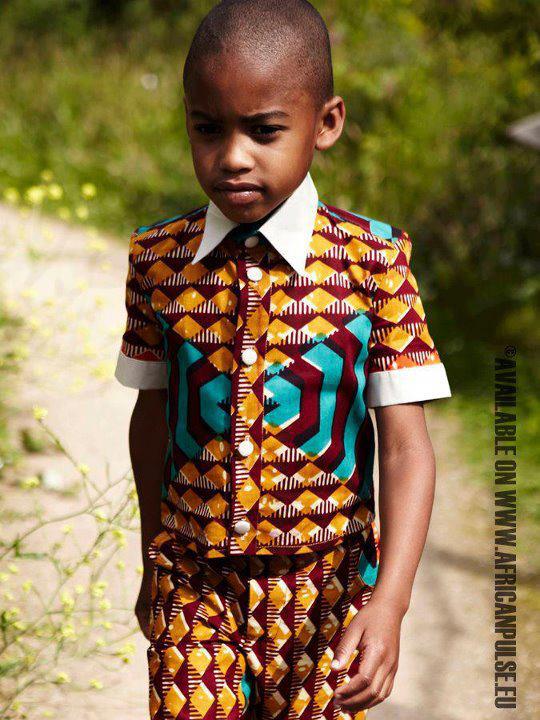 ↓ 5 – Dashiki Tops for Boys
Dashiki tops and jean are just perfect for beach parties and school parties. These can be worn with caps and sneakers to create a unique style statement.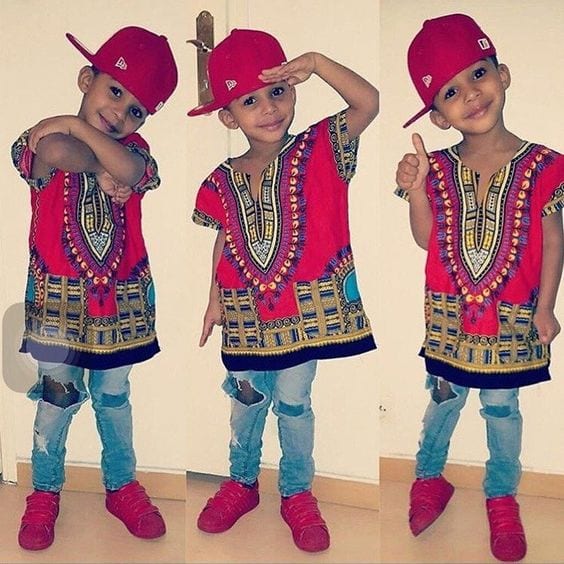 ↓ 4 – Agbada Dresses for Boys
Agbada tops with sokotos or jeans are quite trendy and very traditional. Little guys can wear agbadas in neutral colors on traditional weddings as well.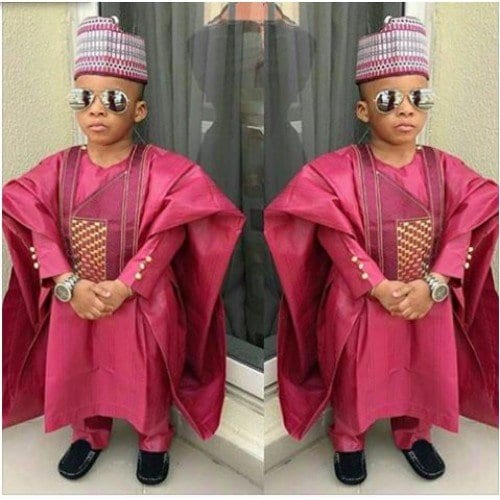 Via
↓ 3 – Dashiki Pants for Boys
Dashiki pants look just perfect with a denim button down shirt and white plain sneakers. Adding dashiki caps will spice up the entire look. These are also comfortable for your kids.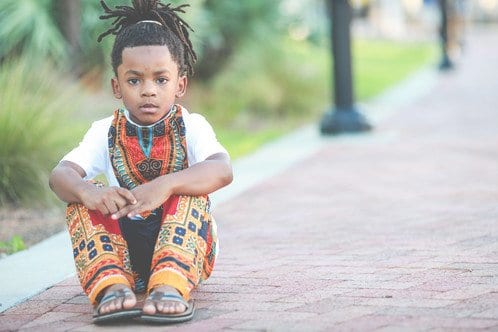 ↓ 2 – Ankara Jackets for Boys
Ankara jackets in monotone shades can be worn with Ankara tops or tees to create an adorable as well as stylish look.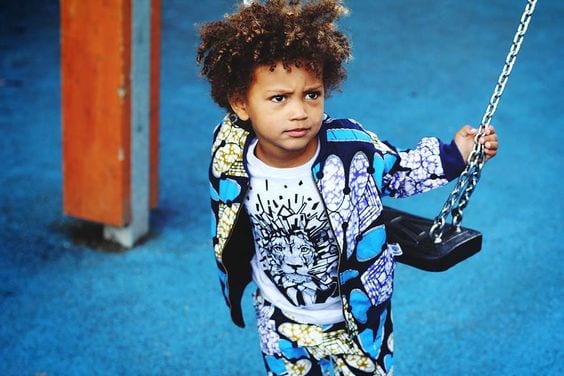 ↓ 1 – Ankara Pants for Little Boys
Ankara pants look extremely chic with button-down shirts and formal shoes. These are fantastic options for formal dinners and parties just like any other dress pants.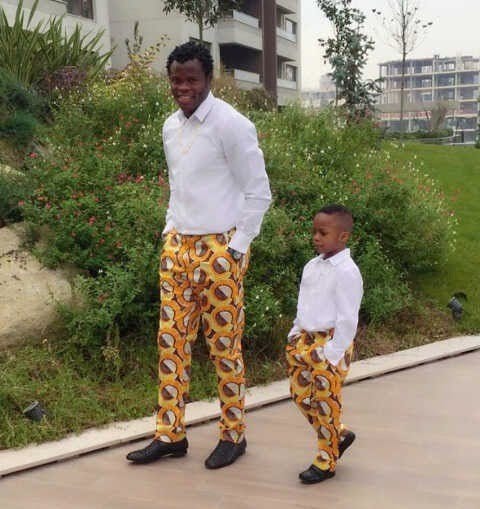 You can share your favorite African garment patterns and ideas in the comments section.