Best Tote Bags for College. Colleges are about to open up all around the world, and the biggest issue that many students face is their bag choice for the upcoming semester. Everyone wants a big bag that can hold all their belongings but doesn't want to compromise on fashion and style.
Well, tote bags are the answer to all your problems! They are gorgeous and practical. They hold everything you need them to have, from your laptop to your notebooks and from chargers to snacks. And they won't mess up your outfits either!
Must-Have Tote Bags for College
When picking out a tote bag, or any bag at all, you have to look at a lot of different perspectives. It would help if you had room for the essentials, a cute exterior, and something that will hold up to your daily grind. Look no further; these six must-have tote bags that are going to last you much longer are spot-on for your college return.
↓ 6 – Plain Canvas Tote Bag
The bare canvas tote is and always will be a favourite among must-have tote bags. You're sure to find a lot of reusable tote bags at wholesale prices. This bag is made from eco-friendly canvas and so is environmentally savvy. Open construction allows you to stash objects of any shape inside without having to worry about stretch or wear. Try using a zippered pouch to stash small essentials in your tote among the rest and presto: you're set to go.
This option can also be made your own by painting on it or using stickers and badges. You could use this tote, as its super cheap and has an excellent quality, and make it your own. Or you can use it as it is. You could purchase a few of these in different colours and wear them according to your outfits.
These can also be used for grocery shopping if you have another bag for everyday use. You can grab it when you are going to Walmart or to get takeout and not worry about paying for plastic bags.
Want to look into school fashion ideas? Explore them Chic Back to School Accessories That Every Girl Must Own.

Grab a similarly designed tote bag from Amazon: Cotton Canvas Zippered Shopping Tote Bag.
↓ 5 – Convertible Backpack
Who doesn't love a multitasker? This convertible backpack-style tote goes from sleek, sophisticated rectangular tote complete with pockets and flap to the same bag in backpack style instantaneously! This one is for those who still have the inner child in them and love backpacks.
Straps separate, and some models zip apart to allow you to divide the weight of textbooks, notebooks, and all the essentials onto both shoulders. Talk about making it easy to stroll around campus; this bag is the definition of versatility. Stylish and practical, this is all things college worthy in one.
The bag features shorter straps for carrying over wrists or forearms for when you're fishing through the purse while you're walking. The bag is also equipped with a longer strap for instances when you're walking across campus in the rain and need to get where you're going efficiently.
Being able to distribute weight across your body is better for joints and alignment so that when you do get to class, you're not slumped in your chair with neck and back cramps. The double strap provides practical carrying options for your hustle and bustle.
Shop Here
Grab a similarly designed tote bag from Amazon: TIMBUK2 Convertible Backpack Tote Bag.
↓ 4 – Custom Printed Tote Bag
With all the different logos, graphics, slogans, images, and prints to choose from, the custom printed tote bag may well be the most versatile tote there is. Large, printed totes are a classic. They have room not only for academic supplies, but for gym clothes, running shoes, a water bottle, and anything at all you may need to carry around with you during the day to make your routine as seamless as possible.
The typical rectangular construction is sturdy and functional. A fun print or pattern on the outside makes the tote fit into your wardrobe. Stick to colors you wear frequently. Maybe you decide upon a sequined or metallic large tote to pop against your usual threads or go for an animal print or whimsical boho pattern to spice things up. Whichever route you choose, this option is a real contender.
You can use the custom option to print a quote from your favourite show on it. This will also help you make friends with people from the fandom. If you are a freshman, then this will significantly help you connect with people who have the same interests as you and like the same shows and movies as you.
The option to put whatever you want on it makes it true to you. No matter what color, text, or print you choose, it will be unique to you and you only. You do not have to worry running into someone with the same bag as you and to ruin your mood for the remainder of the day. So make sure when you are ordering, pick a style that is specific to you and your personality!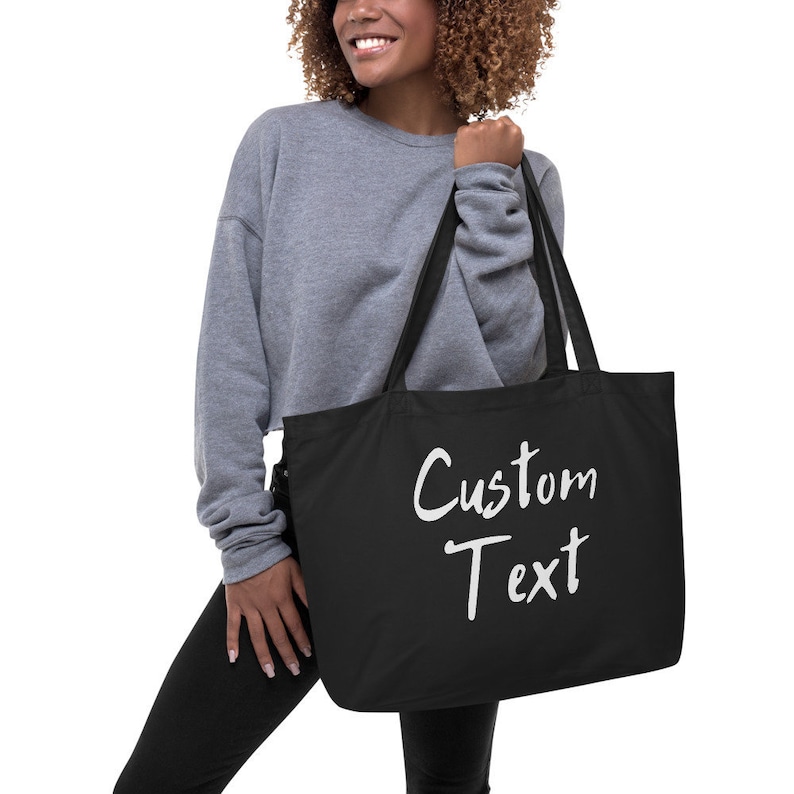 Take a look at some branded bags Budget-Friendly Branded Handbags Every Girl Must Own.
↓ 3 – PVC Tote Bag
You're headed back to college, and you're trying to decide on an adequate tote bag. You loved your last one, but after a semester, it started showing all the love with ripped seams, holes, and general wear and tear.
It would be best if you had a PVC tote bag to keep up with you and prevent any tears in the future. As a PVC bag is made out of a plastic-like material, it is more durable and works better. The bucket shape lets you stash whatever you please, and the straps themselves are genius.
Polyvinyl chloride is one of the best and most long-lasting materials, especially when it comes to bags. This material is highly famous these days as its being used to make backpacks and purses as well as tote bags. Once you buy this tote, we can almost guarantee that it won't ever tear or become useless.
This is mainly a great choice if you go to university in a place that experiences rain often, as the material is waterproof and hence will keep all your belongings dry. Any water or condiments that get on the bag are also easily cleanable using a washcloth.
You find a PVC tote bag is clear or transparent as well as opaque. The transparent version is in fashion and trending these days but if you like your privacy, then go for the opaque option.
↓ 2 – Oversized Faux Leather Tote Bag
This one is a personal favourite of ours. This is your pick if you are someone who does not like overly casual bags. If you are somebody who tries to make an effort to dress up every day at college, then this will suit your needs better. It is the perfect cross between semi-formal and casual. You can still use this bag every day and look ravishing while doing so.
The oversized rectangular faux leather tote is chic, roomy, and functional. Available in lots of different neutrals, this style of the bag goes with virtually anything from gym clothes to a suit for that business presentation. Detailing in the form of metallic accents, studs, tassels, and even bows can add a little of your personal aesthetic to the whole picture.
The difference in colors between the exterior and interior caught our eye specifically. Using a dull color on the outside but a brighter color on the inside of the bag gives it major character and will also help you match it with a larger pool of looks that you must be planning already.
When you are picking your favorite from the collection of leather tote bags in the market, make sure you take into account your own needs and wants—another thing to keep in mind if the versatility of the bag. Bear in mind that you'll have to make this bag work with multiple outfits throughout the semester, and maybe even year. So pick one that you are sure will look gorgeous in whatever way you wear it!
↓ 1 – Cuyana Classic Tote Bag
If you are a person who is brand conscious and wants to own the best of the best of everything, then you must get this classic tote bag from the ultimate tote making company, Cuyana. Cuyana has the best tote bags hands down and is one of our favorite brands. Their products are chic and practical.
This brand is owned by BIPOC and is sustainable, two things that we absolutely adore about them. Karla Gallardo started Cuyana with co-founder Shilpa Shah bearing the vision of creating a universal design house that inspires deliberate buying through pieces that are crafted with integrity. Founded on the philosophy of lesser, better, Cuyana encourages customers to purchase fewer but better-quality pieces that they will adore and love for years to come.
A classic tote with reinforced construction offers space for books, file folders, notebooks, pens and pencils, a wallet, cell phone, and other essentials. A place for all you need means easy organization on the go, which comes in handy when you're rushing from one lecture to the next and need to locate your homework assignment on the go. Compartments and pockets aplenty, this classic tote is your pick if you are always struggling to find a spot for everything—this gem yields consistency in bag form.
This bag is also the most stylish one on this list. It will easily make any of your outfits look better and more put together. There are many color choices, so you have the liberty to pick the color you want and think will go best with a large number of looks. This bag is gorgeous and functional at the same time, and that is precisely why it's at number one!
Regardless of your style, there are must-have tote bags for everyone, particularly when it comes to heading back to college. Classes, gym schedules, clubs, and time for fun have you grinding daily to fit everything in. Luckily, your bag is no longer part of the struggle. With these bags, you can keep all you will need in a day in one place, especially if you are not lodging on campus and hate driving back home to grab things every two hours.
Q.

What are tote bags used for?
A. Tote bags are used as carryall bags and can be used for any work. They are often used for shopping sustainably, or as school and college bags to hold books. You can use a tote bag for carrying your gym essentials as well as your belongings during a sleepover. A tote bag can hence be used as a purse, a duffle bag, a school bag, and a gym bag all at once!
Q.

Why are tote bags called tote bags?
A. The word tote is probably African in origin and came into English via Gullah. The origin of the word tote is "to carry" and can be traced back to the 17th century. The first tote bags were pouches worn around the waist. Although they had a practical use, they could be embellished with embroidery or jewels and were used as an indication of a person's wealth.
The tote bag that we recognize today had its origins in the 1940s when US company LL Bean created their first bag for carrying ice and wood. This sturdy, practical, canvas "ice bag" was made to last.
Twenty years later, the company reintroduced the bag, now known as the boat bag, with the same form but with colored trim for the first time. The Boat Bag, now called the Boat and Tote, remains a staple, now available in many different colors, sizes, and finishes but with the original "ice bag" structure still in place.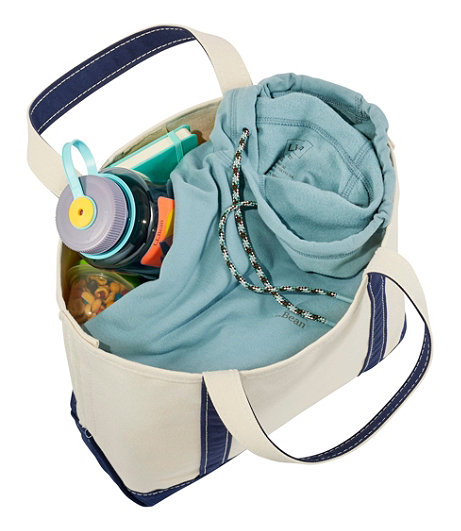 Q.

What fabric is best for tote bags?
A. Sturdy fabrics such as canvas, denim, twill, drapery fabric, upholstery fabric, and outdoor fabric are best for tote bags. Since many tote bags seldom require cleaning, novelty drapery, and upholstery fabrics can be fun choices. Faux leather vinyl and nylon are a couple more durable options.